Audiology Services at Lane
Baton Rouge Area Audiology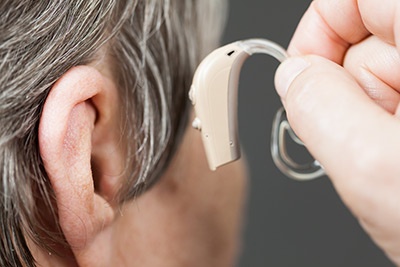 Forget about what you think you know about hearing devices up to now. You will be amazed at how smart, how helpful, and how transforming better hearing can now be!
Like fingerprints, no two ears are the same and consulting a Doctor of Audiology should be your first step.
At Louisiana ENT Audiology Clinic, our goal is to improve the quality of life for people with hearing loss by providing patient-centered care. We provide area residents with diagnostic hearing evaluations in order to identify hearing loss and determine the type of hearing loss present.
Our skilled audiologist provides each patient with guidance in selecting just the right hearing aid based on their specific type of hearing loss, their hobbies and lifestyle, and other factors. We also offer easy financing options and work closely with insurance companies and Medicare.
To request your hearing test, call 225-658-4154, or use our online form.
Request an Appointment / More Information
---
Hearing Aid Technology
We contract with a number of major hearing aid manufacturers which allows us to dispense a wide range of hearing aid technology. This includes the latest models to suit every hearing loss, hearing need, lifestyle and budget.
Hearing protection and hearing loss prevention are key components of our care. Through consultation on the effects of noise on hearing, community outreach talks, screenings, and the dispensing of hearing protection devices, we strive to educate our patients and the general public on the importance of hearing and how to protect it.
---
Audiology Services
Louisiana ENT Audiology Clinic is a full-service hearing clinic. We offer diagnostic evaluation services to meet all of your needs. We ensure our patients receive superior service by staying up to date on the latest in hearing health care including hearing aid and assistive listening device technology.
Click on any service below to learn more:
Diagnostic Hearing Evaluations
You will be tested using a series of low, mid & high frequency tones through two types of phones. You will be asked to repeat words as well. This will help in determining the severity of the hearing loss, treatment options and expected outcomes.
Hearing Aid Fitting & Dispensing
Our philosophy is to provide our patients with the best hearing instruments available based on several factors including lifestyle, the severity of the hearing loss, the impact of the hearing loss on communication, as well as monetary considerations. We strive to find the perfect match to help you hear well again.
When hearing aids are not enough or not appropriate we can recommend other assistive devices such as those for the TV, telephone or meeting rooms.
Industrial Hearing Testing
These in-office appointments would include:
Case history documentation
An orthoscopic examination
Pure tone testing
Explanation of test results to each employee
Counseling on the importance of consistent use of hearing protection in the presence of hazardous noise,

both on and off the job
Tympanometry is an examination used to test the condition of the middle ear and mobility of the eardrum (tympanic membrane) and the conduction bones, by creating variations of air pressure in the ear canal.
Acoustically evoked otoacoustic emission testing allows the audiologist to understand how the outer hair cells of your inner ear are working.
Custom Hearing Protection
We offer a wide variety of custom made products for people who wish to protect their hearing from excessive recreational or occupational noise.
We offer earmolds for musicians, hunters, and swimmers. These earmolds will be custom made to fit the exact contours of your ears.
We offer a wide range of custom fit musician's earmolds and in-ear monitors. Custom receivers can be used on stage or simply with a personal listening device.
In Office Cleanings & Instrument Evaluation
Our staff emphasizes ongoing cleaning and maintenance after your hearing aid purchase to ensure you receive optimum performance and benefit from your hearing aids. We encourage all our patients to come in for a regular hearing aid check-up and cleaning.
We offer repairs, maintenance, and cleanings on most brands of hearing aids. Many repairs can be competed in office.
Size 10 (yellow)
Size 312 (brown)
Size 13 (orange)
Size 675 (blue)
---
Maximize Your Hearing Aid
Audiologists know that the benefit of hearing aids is wasted if the hearing aid itself is not properly adjusted. New equipment called Real Ear Measures is now available to assist Dr. Kaylea Hurst Barron with precision fitting and adjustment of hearing aids.
A small microphone is placed in the ear canal and measurements are taken with and without the hearing aid.
Individual ear acoustics are measured and real time adjustments are made to the hearing aid so speech sounds are clear and audible.
This measurement is beneficial for new hearing aid fittings as well as for fine tuning and adjusting existing hearing aids.
Call Lane Audiology today to maximize your hearing aids at (225) 658-4154.