Volunteer Services
Volunteers make a difference by sharing their time, talents, and passions with others. The Volunteer Services Program of Lane Regional Medical Center was established to develop and maintain opportunities to enhance patient care within our organization. Volunteers add an extra dimension of care and empathy for families, visitors, and staff.
We offer a variety of volunteer opportunities for men and women within the volunteer program. We work with you to find an area and schedule that fits your personality, skills, and interests. No experience or prior training is necessary!
No matter what area you volunteer in, you can be assured your contributions are needed and that they will make a difference in the lives of everyone you meet.
A few examples of volunteer responsibilities at Lane include:
Assisting with special events and special projects

Typing, filing, copying, and other clerical work in various departments.

Hospitality service of coffee, water, and ice to patients

Visiting with select patients

Assisting with staff mailings

Working in Gift Shop

Reading to patients

Providing information and assistance to visitors at information desks
Benefits of volunteering include:
Meeting new people

Learning new skills

Gaining new experience

Improving self-worth

Rewarding experience helping others

Flexible schedules

Sense of satisfaction from serving your community

Opportunities to network, build your resume, and learn more about healthcare careers

Invited to all hospital celebrations and recognition events

Eligible for cafeteria discounts, free flu shots, free tuberculosis screening, and participation in health and wellness screenings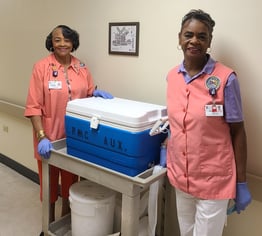 Apply today!
Lane Volunteer Services offers volunteer opportunities for adults ages 18 & older. Simply complete the online application here, or contact the volunteer services department at 225-658-6699 to learn more.
Thank you for your interest in Lane's Volunteer Services Program. By partnering with us, you will help foster our mission of providing exceptional healthcare services to every patient, every time.