Update September 21, 2020 - Phase 3, Visitor Policy
As we continue to respond to COVID-19, patient and team member safety remain our highest priority.
To ensure the safety of our hospital and community while remaining empathetic to the needs of our patients and families, we are again adjusting our visitor policies as Louisiana moves to Phase 3 of reopening.
We will continue with the single entrance for visitors through the Emergency Department while increasing the number of visitors allowed for non-COVID-19 patients:
Visitation
Patient Visitation: Visitors will be allowed to rotate throughout the day:
Inpatient Units

- Two visitors will be allowed during normal visiting hours. One is allowed to spend the night with the patient if desired, and visitors will be allowed to rotate throughout visiting hours.

Critical Care Units -

Two visitors will be allowed during normal visiting hours.

Labor & Delivery -

Four visitors are allowed per patient during normal visiting hours.

Children Visitors:

No children under age 18 unless here for a procedure or end of life visitation.

Persons Under Investigation (PUI) or confirmed positive COVID-19 patients:

No visitors, except for end of life*.

If a visitor is allowed under the outlined exceptions, the visitor must wear the recommended personal protective equipment (PPE) for the duration of the visit, including a mask.

Emergency Department

: One visitor per day. Visitor is allowed to stay all day, not restricted to visitation hours. Visitor is not allowed to swap out. Must be over 18 years of age.

Surgery and Procedures

: Patients undergoing surgery or being admitted to the hospital may have 1 designated visitor pre-procedure, and if admitted, visitors must follow the visitation guidelines.

Outpatient Services/Appointments

: Patients may have 1 visitor to accompany them during their service/appointment, not limited to visitation hours.
Visiting Hours will remain the same:
8 a.m. – 10 p.m. Patient Rooms

8 a.m. - 8 p.m. Labor & Delivery/Recovery & Postpartum
Vendors/Referrals: Vendors will be allowed for direct patient care activities.
Retail Pharmacy/Billing/Medical Records: Customers are allowed.
Exceptions to the Visitor Policy Outside of Regular Visiting Hours:
End of Life

: Patients admitted for end of life evaluation and treatment, or patients being evaluated for and/or receiving hospice care, including PUIs and COVID-19 positive patients, may have two visitors and may rotate. Clergy will be allowed for end of life situations.

*End of life is defined as anticipated death with an active do-not-resuscitate (DNR) order in place and/or planned withdrawal of life-sustaining interventions (e.g., ventilator).
Screening
All visitors will continue to be screened daily for symptoms, including:
History of positive COVID diagnosis within the last 10 days

Exposure to a positive COVID person within the last 10 days

Fever greater than or equal to 4°F

Cough

Shortness of breath or difficulty breathing

Sore throat

Congestion that differs from their typical seasonal allergies

Body aches

Fatigue

Loss of smell/taste

Diarrhea
Security officers will be logging and screening visitors entering the facility. If a visitor says "YES" to any of the screening symptoms, they will not be allowed entry into the facility.
Safety
With the well-being and protection of our team, patients, and community in mind, we will require all employees, visitors, and patients to adhere to the following safety measures:
Wear a mask

Practice social distancing

Practice consistent hand hygiene

Visitors must wear a mask when caregivers enter room or when entering or leaving the building
------------------------------------------------------------------------------------------------------------------------------------------------------
Update August 18, 2020 - COVID-19 Testing
Prior to using our services for treatment of COVID-19 symptoms or exposure, please note:
1. You will see a provider and your insurance will be charged for the provider visit.
2.
Most
insurance companies are covering 100% of the cost for COVID-19 treatment and testing. However, some insurance companies, including BCBS, have not covered the rapid COVID- 19 test at 100%. You are responsible for understanding how your treatment will be covered by your health plan.
Patients exhibiting COVID-19 symptoms will receive the rapid test that provides results within 24 hours.

Patients who have been exposed to COVID-19 but do not have symptoms will receive the standard non-rapid test that provides results with 2-3 days.
Antibody testing is available for patients who believe they may have contracted COVID-19 in the past.
3. The cash charge and insurance charge for each test will be different. The cash price for rapid COVID testing is $210. The cash price for non-rapid COVID testing is $100. The cash price for antibody testing is $100. The insurance price will vary depending on what health plan you use. You are responsible for your health plan's co-pays and/or deductibles for the provider visit and testing.
To schedule a COVID-19 testing visit, please call ahead for instructions:
FastLane Urgent Care Walk-in Clinic, 19900 Old Scenic Highway, 225-570-2618.
Open: Mon - Fri, 7a.m. - 8p.m.; Sat & Sun, 9am. - 6p.m.
Lane Family Practice, 2335 Church Street, 225-654-3607.
Open: Mon - Fri, 7a.m. - 5p.m.
------------------------------------------------------------------------------------------------------------------------------------------------------
Update June 8, 2020 - Phase 2
During Phase 2, Lane continues to operate with extra precautions in place to keep our patients and staff safe:
All Hospital Services are Open - including outpatient Lab/Imaging tests, procedures, and surgeries
The Emergency Room, hospital, and clinics have completely separate areas for testing and treating suspected COVID-19 patients. Please do not let the fear of contracting COVID-19 keep you from seeking lifesaving care.
Masks are required, please bring your own mask from home
Limit of one visitor per patient, per day
All Lane Clinics are Open. Our providers are seeing patients in person or via tele-medicine. Click Here to make an appointment.
Lane Regional Medical Center is offering both COVID-19 Testing and COVID-19 Antibody Testing at Lane Family Practice and FASTLane Walk-in Clinic.
COVID-19 Antibody Testing
Please note: You will have to see a provider before being tested.
Lane Family Practice
2335 Church Street, Zachary
Call 654-3607 to schedule an appointment.
FASTLane Walk-in Clinic
19900 Old Scenic Highway, Zachary
Mon – Fri: 7 a.m. – 8 p.m.
Sat & Sun: 9 a.m. – 6 p.m.
570-2618
What is the COVID-19 Antibody Test?
The COVID-19 Antibody Test will determine the presence of antibodies to SARS-CoV-19, the virus that causes COVID-19. This test has a 98.6% accuracy rate.
Who should get a COVID-19 Antibody Test?
It is best for:
those who have experienced COVID-19 signs and symptoms
OR
those who had a known exposure to someone who tested positive for COVID-19
When should I get the COVID-19 Antibody Test?
It is best to wait 14 days after initial symptoms or exposure before being tested for COVID-19 antibodies.
Why should I get a COVID-19 Antibody Test?
The Antibody Test is not required. You should get the Antibody Test if you want to know if you've had the COVID-19 virus, or not.
How is the Antibody Test performed?
A small blood sample will be drawn and sent to LabCorp for analysis.
How long will it take to get my results?
Approximately 2-3 days.
What does a negative test result mean?
A negative test result indicates you have not developed detectable antibodies. While contingent on a variety of factors, this could be due to testing too early, the absence of exposure to the virus, or a weakened immune system because of conditions or treatments that suppress immune function such as chemotherapy or HIV/AIDS.
What does a positive test result mean?
A positive test result indicates you have likely produced an immune response to the SARS-CoV-2 virus. This is not a guarantee you are immune to COVID-19. If you had an infection with another strain of coronavirus, such as the common cold, you could potentially have a positive result as well.
For additional questions, please contact your healthcare provider at Lane Family Practice or FASTLane Walk-in Clinic.
------------------------------------------------------------------------------------------------------------------------------------------------------
Visitor Update – 5-15-2020
For the safety of our patients, team members, and community:
ALL PATIENTS AND VISITORS MUST WEAR A MASK
Patients and visitors are asked to enter through the Emergency Room entrance.
Visitor limits:
In-patients and Out-patients: 1 visitor per patient per day
Respiratory isolation patients – no visitors allowed at this time
ER: 1 visitor per patient
Labor & Delivery: 1 visitor per patient per day
Nursing Home: no visitors allowed at this time
No children under the age of 12 allowed to visit at this time
Exceptions may be made if the patient's healthcare team believes visitation is essential
Other:
Retail pharmacy – call 658-6770 to refill or pick up prescriptions
Billing – for questions or to make a payment by phone, call 844-620-8131. For clinic or cash payments, call 658-4343, 8:30 am – 4 pm
Medical Records – call 658-4311 and leave a message with call back number, name of patient, date of birth, and date of service if known.
_______________________________________________________________________________
Safety Precautions in Place for Lane Clinics and Emergency Rooms
There is nothing more important than your health. Please know we are following state guidelines and taking every precaution when you come into a Lane clinic or Lane emergency room.
CLINICS
At all Lane clinics, we are committed to providing you safe, convenient and effective care. We encourage you to seek the healthcare services you may have been postponing.
Here a few EXTRA precautions we have in place for your safety, and the safety of those around you:
Masks – Everyone is required to wear a mask when entering the clinic at this time, including patients, staff members, and providers. Please bring your mask with you when you come.
Screening – All patients will be screened for COVID-19 symptoms by phone prior to their appointment and again upon arrival. Staff members continue to be screened before work each day, wash their hands before and after every patient interaction, and wear Personal Protective Equipment (PPE).
Disinfecting – We continue to disinfect the clinic throughout the day, especially in between patients. A deep cleaning of the entire clinic is done every evening.
Social Distancing – Patients have the choice to wait inside the waiting room or in their vehicle. Waiting rooms are arranged to maximize social distancing with designated sick and well seating sections. Only well patients are allowed in common waiting areas for lab and x-ray. Sick patients will have labs drawn in their exam room, and/or will wait in their exam room until it's time to be escorted to and from imaging for x-rays.
Visitors – Patients are allowed to bring one visitor.
Appointments – All clinics are seeing patients in person. Tele-medicine appointments are also available from the comfort of your home.
CALL TO SCHEDULE YOUR IN-PERSON OR TELE-MEDICINE APPOINTMENT TODAY.
Lane Family Practice – 654-3607
FASTLane Urgent Care – 570-2618
Lane OB/GYN – 658-1303
Lane Pediatrics – 658-4070
Lane Gastroenterology – 658-6780
Lane Surgery Group – 570-2489
Lane Audiology – 658-4154
Lane Cancer Center – 658-4400
Lane Wound Care & Hyperbarics – 658-4110
Lane Cardiovascular Center – 654-1559
Lane Outpatient Therapy – 658-4578
EMERGENCY ROOM
The Lane Regional Medical Center Emergency Room is safe and clean. Please don't delay life-saving care in the ER because of COVID-19 fears. Ignoring signs and symptoms of stroke or heart attack puts you at an even greater risk.
EXTRA safety precautions are in place to maximize your safety in the ER:
We have completely separate areas for testing and treating suspected coronavirus patients.
As we do throughout the hospital, staff members are assigned to only one area - either regular patients or suspected COVID-19 patients - as to not spread possible infection between patients.
Everyone is required to wear a mask when entering the hospital, including patients, staff and physicians. Please bring your mask with you when you come.
All patients and staff are screened for COVID symptoms and temperatures taken upon arrival.
We continue to thoroughly disinfect the unit throughout the day, with deep cleanings in between patients.
If needed, there are two separate waiting rooms, one for suspected COVID-19 patients and another for non-COVID related illnesses and injuries.
Patients are allowed to bring one visitor.
Thank you for trusting us with your care. Our mission is to provide exceptional healthcare services to every patient, every time.
----------------------------------------------------------------------------------------------------------------------------------------------
CDC Adds 6 Symptoms
The Centers for Disease Control and Prevention added six more symptoms of the novel coronavirus to its list, suggesting health experts are learning more about the growing number of ways physicians see the virus affecting patients.
Previously, the CDC listed just three known symptoms: shortness of breath, cough and fever.
The six additional symptoms are:
Chills
Repeated shaking with chills
Muscle pain
Headache
Sore throat
New loss of taste or smell
The symptoms usually appear within two to 14 days after exposure to the virus.
-----------------------------------------------------------------------------------------------------------------------------------------------------------------------------------------------------------
Avoid Coronavirus Scams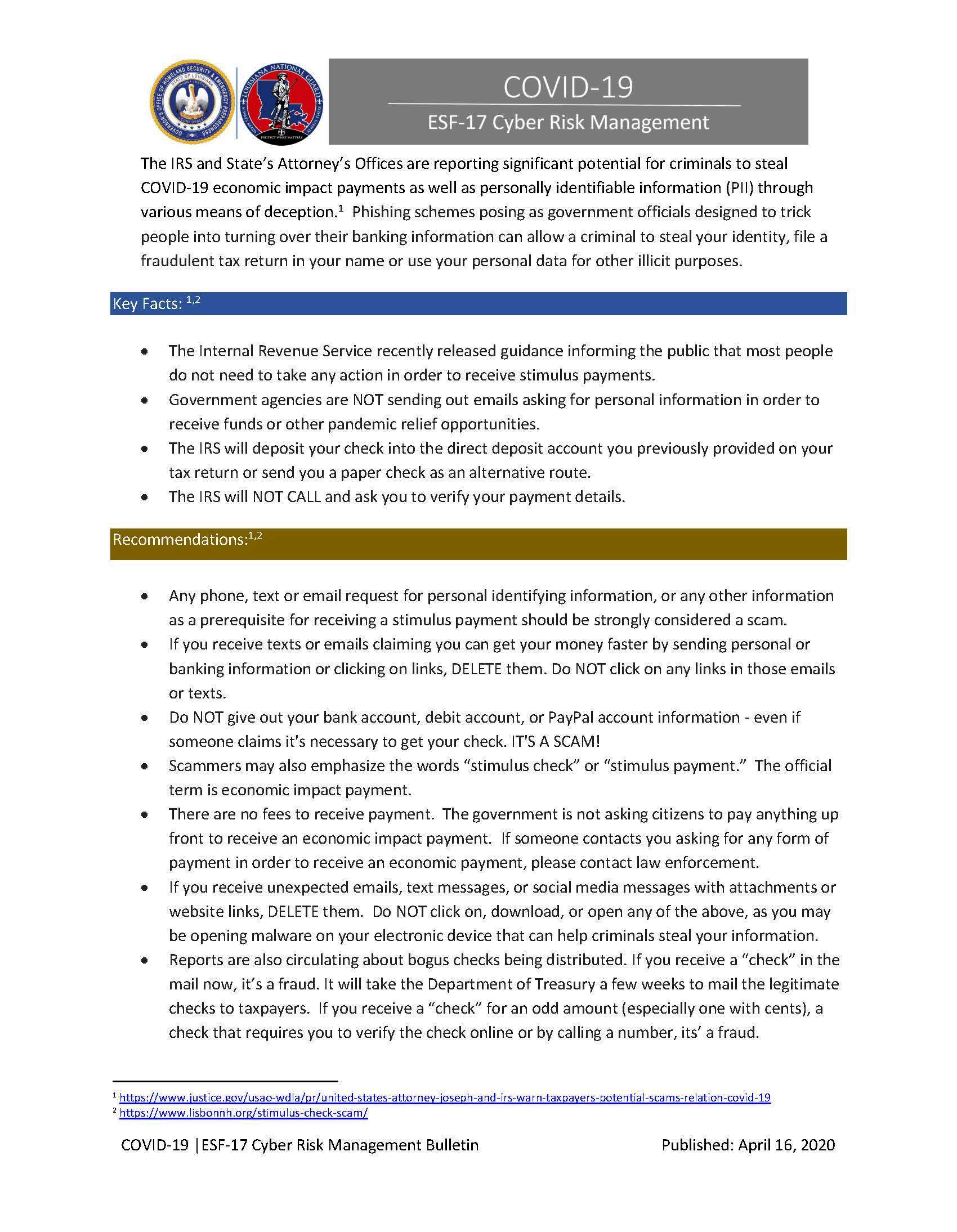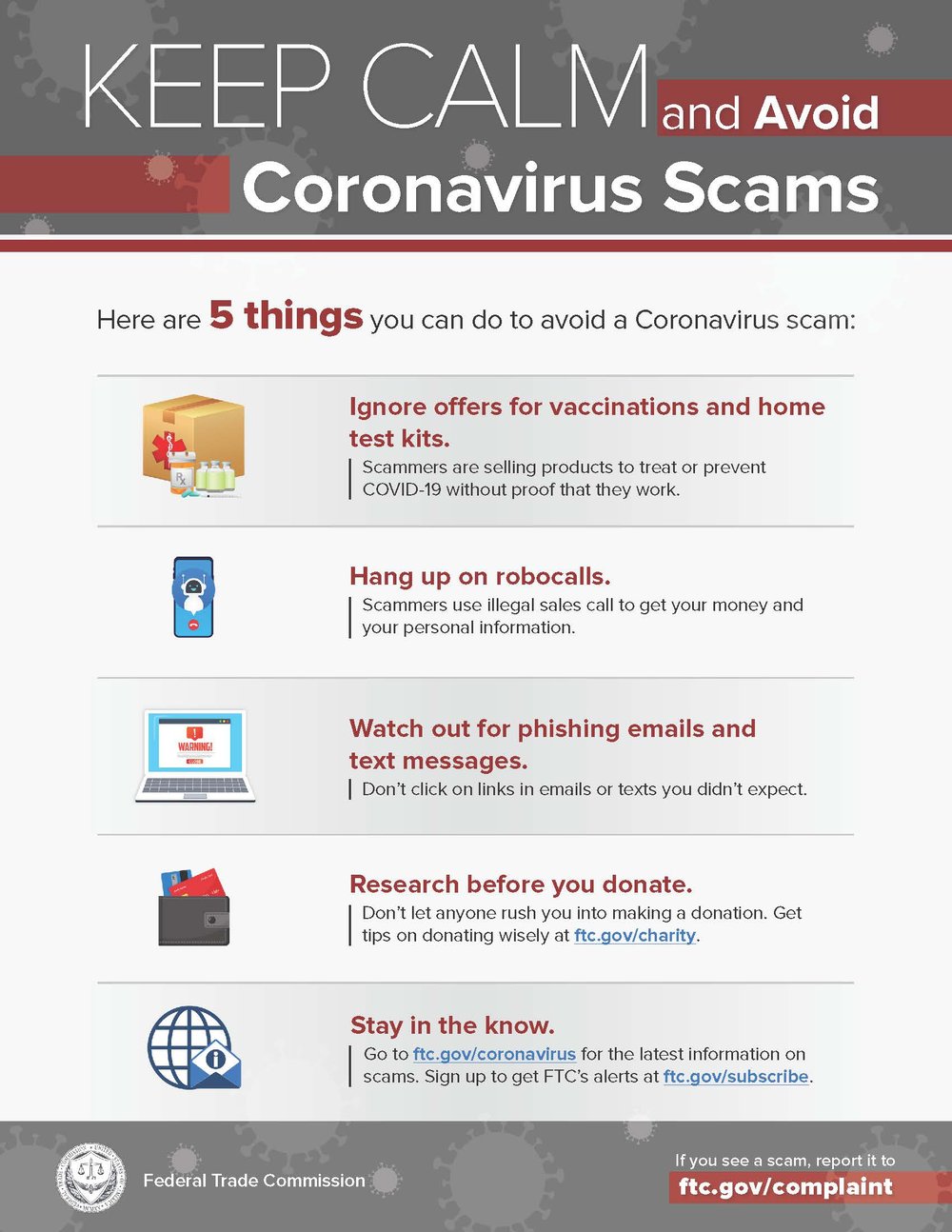 Having COVID-19 Symptoms? Here's When to Seek Medical Attention.
If you begin to develop the symptoms we are repeatedly hearing about – cough, fever and shortness of breath – it can be frightening. So how do you know which symptoms warrant medical attention?
If you wake up with a fever or a tickle in your throat, stay calm. There are many illnesses that could result in same symptoms.
It may be tempting to rush to your nearest hospital emergency room, but no matter what illness it is, you should always monitor your symptoms and seek the advice of your primary care provider FIRST. This is even more important now when hospital resources are needed for those who are truly in need of care.
Lane Family Practice: 654-3607
Lane Pediatrics: 658-4070
Lane OB/GYN: 658-1303
FASTLane Urgent Care: 570-2618
If your symptoms become more critical, then seek emergency care. The CDC currently recommends that you should seek medical attention immediately if you develop these emergency warning signs* for COVID-19:
Trouble breathing
Persistent pain or pressure in the chest
New confusion or inability to arouse
Bluish lips or face
*This list is not all inclusive. Please consult your medical provider for any other symptoms that are severe or concerning.
------------------------------------------------------------------------------------------------------------------------------------------------------
Safety Precautions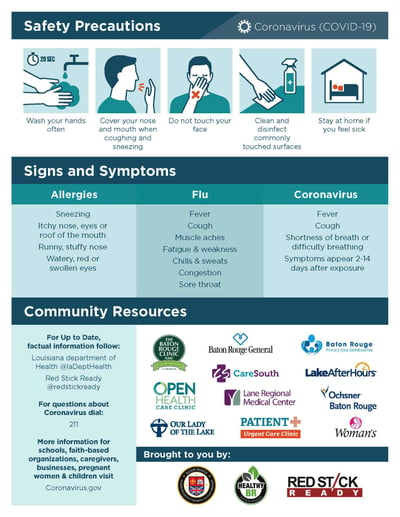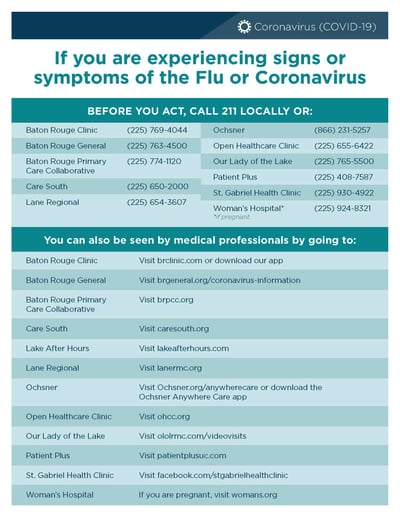 FAQs - COVID-19 (Coronavirus)
NOTE: A statewide network has been launched to answer your questions regarding COVID-19: Dial 211, or text keyword LACOVID to 898-211. If you need to get in touch with Lane Family Practice, please call 225-654-3607.
What is Coronavirus Disease 2019 (COVID-19)?
Some quick facts:
Human coronaviruses existed before this including some that commonly cause mild upper-respiratory tract illnesses like the common cold.
COVID-19 is a new disease, caused by a new coronavirus that has not previously been seen in humans.
The coronavirus that causes COVID-19 likely originated in bats.
This new coronavirus strain has the potential to cause more severe respiratory disease than previously circulating coronaviruses.
How is COVID-19 spread?
Person-to-person spread - The virus is thought to spread mainly from person-to-person.
Between people who are in close contact with one another (within about 6 feet).
Through respiratory droplets produced when an infected person coughs or sneezes. These droplets can land in the mouths or noses of people who are nearby or possibly be inhaled into the lungs.
Spread from contact with infected surfaces or objects.
It may be possible that a person can get COVID-19 by touching a surface or object that has the virus on it and then touching their own mouth, nose, or possibly their eyes, but this is not thought to be the main way the virus spreads.
Can someone spread the virus without being sick?
People are thought to be most contagious when they are most symptomatic (the sickest).
Some spread might be possible before people show symptoms; there have been reports of this occurring with this new coronavirus, but this is not thought to be the main way the virus spreads.
How easily does the virus spread?
How easily a virus spreads from person-to-person can vary. Some viruses are highly contagious (spread easily), like measles, while other viruses do not spread as easily. Another factor is whether the spread is sustained.
The virus that causes COVID-19 seems to be spreading easily and sustainably in the community ("community spread") in some affected geographic areas. Community spread means people have been infected with the virus in an area, including some who are not sure how or where they became infected.
What are the Symptoms of COVID-19?
Reported illnesses have ranged from mild symptoms to severe illnes
The following symptoms may appear 2-14 days after exposure

Fever
Cough
Shortness of breath
Who Gets Tested for the Novel Coronavirus?
We offer testing for common coronaviruses through our respiratory viral panel. These do not detect the Novel Coronavirus (COVID-19). We follow testing recommendations from Centers for Disease Control and Prevention which are updated regularly. In order to test for Novel Coronavirus (COVID-19), we must call the Louisiana Department of Health to get approval for testing. Patients with a travel history to COVID-19 infected areas or who have been in contact with someone diagnosed with COVID-19, must meet the following criteria in order to be tested:
Have a fever of 100.0F or greater
Test negative for influenza
Be diagnosed with a lower respiratory infection
What to do if you think you are sick with COVID-19?
CALL AHEAD to a healthcare professional if you develop a fever and symptoms of respiratory illness, such as cough or difficulty breathing, and have been in close contact with a person known to have COVID-19 or if you live in or have recently traveled to an area with ongoing spread. Tell your healthcare professional about your recent travel or contact. Your healthcare professional will work with your state's public health department and CDC to determine if you need to be tested for COVID-19.
What About Wearing a Mask?
Wearing a surgical mask will not keep you from getting COVID-19
Masks are in high demand throughout the country
Healthcare facilities are being given an allotted amount of masks
Everyone needs to do their part to conserve masks that are not needed
What are the Best Prevention Practices?
It is important for everyone to practice these everyday precautions to help prevent the spread of germs:
Wash your hands often - for 20 seconds with soap and water, or use alcohol-based hand sanitizer
Cover your cough or sneeze with your elbow or a tissue
Do not touch your face
Clean and disinfect commonly touched objects and surfaces
Avoid people who are sick
Stay home if you are sick, except to get medical care
To help you determine when to seek medical care, here is a list of the most common signs and symptoms to look for: