For the safety of our patients, team members and community:
NO VISITORS ALLOWED AT THIS TIME
(Exceptions may be made if the patient's healthcare team believes visitation is essential.)
All patients are asked to enter through the EMERGENCY ROOM ENTRANCE. All other hospital entrances are closed to the public.
All patients will be screened and have their temperature taken based on CDC guidelines before being allowed to enter.
We appreciate your understanding and support as we take extraordinary steps to prevent the spread of viruses until further notice.
New Policy on Elective and Non-Essential Procedures
The Louisiana Department of Health is requiring all healthcare facilitates to suspend all elective procedures beginning March 19, 2020.
"The Department hereby directs that any and all medical and surgical procedures that, in the medical opinion and judgement of the physician or other appropriate healthcare professional acting with the scope of his/her license, can be safely postponed for a period of thirty (30) days, SHALL be postponed for a period of thirty (30) days. This thirty (30) day period shall run from March 19, 2020, through April 21, 2020 unless otherwise extended in writing by the department."
This means that our organization is currently postponing all elective medical and surgical procedures for 30 days. We are still prepared for and will conduct emergency and medically necessary procedures as deemed appropriate by your physician.
Patients with regularly scheduled follow-up visits should contact their physician's office to ask if the doctor recommends an in-person visit at this time.
If you have questions about your particular case, please call your physician's office.
Other:
Retail pharmacy – call 658-6770 to refill or pick up prescriptions
Billing – for questions or to make a payment by phone, call 844-620-8131. For clinic or cash payments, call 658-4343, 8:30 am – 4 pm
Medical Records – call 658-4311 and leave a message with call back number, name of patient, date of birth, and date of service if known.
Safety Precautions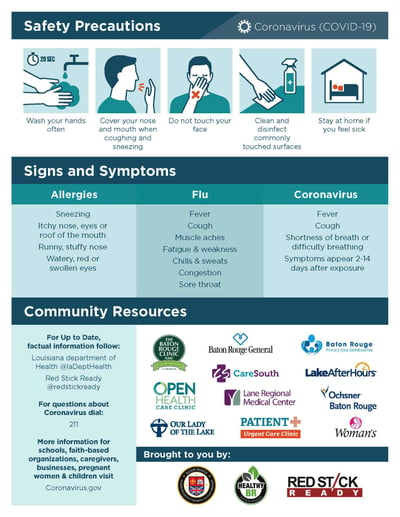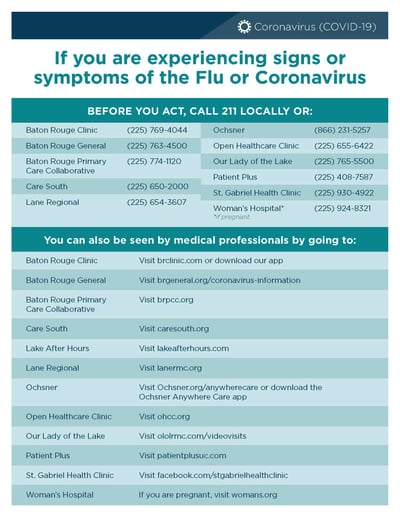 FAQs - COVID-19 (Coronavirus)
NOTE: A statewide network has been launched to answer your questions regarding COVID-19: Dial 211, or text keyword LACOVID to 898-211. If you need to get in touch with Lane Family Practice, please call 225-654-3607.
What is Coronavirus Disease 2019 (COVID-19)?
Some quick facts:
Human coronaviruses existed before this including some that commonly cause mild upper-respiratory tract illnesses like the common cold.
COVID-19 is a new disease, caused by a new coronavirus that has not previously been seen in humans.
The coronavirus that causes COVID-19 likely originated in bats.
This new coronavirus strain has the potential to cause more severe respiratory disease than previously circulating coronaviruses.
How is COVID-19 spread?
Person-to-person spread - The virus is thought to spread mainly from person-to-person.
Between people who are in close contact with one another (within about 6 feet).
Through respiratory droplets produced when an infected person coughs or sneezes. These droplets can land in the mouths or noses of people who are nearby or possibly be inhaled into the lungs.
Spread from contact with infected surfaces or objects.
It may be possible that a person can get COVID-19 by touching a surface or object that has the virus on it and then touching their own mouth, nose, or possibly their eyes, but this is not thought to be the main way the virus spreads.
Can someone spread the virus without being sick?
People are thought to be most contagious when they are most symptomatic (the sickest).
Some spread might be possible before people show symptoms; there have been reports of this occurring with this new coronavirus, but this is not thought to be the main way the virus spreads.
How easily does the virus spread?
How easily a virus spreads from person-to-person can vary. Some viruses are highly contagious (spread easily), like measles, while other viruses do not spread as easily. Another factor is whether the spread is sustained.
The virus that causes COVID-19 seems to be spreading easily and sustainably in the community ("community spread") in some affected geographic areas. Community spread means people have been infected with the virus in an area, including some who are not sure how or where they became infected.
What are the Symptoms of COVID-19?
Reported illnesses have ranged from mild symptoms to severe illnes
The following symptoms may appear 2-14 days after exposure

Fever
Cough
Shortness of breath
Who Gets Tested for the Novel Coronavirus?
We offer testing for common coronaviruses through our respiratory viral panel. These do not detect the Novel Coronavirus (COVID-19). We follow testing recommendations from Centers for Disease Control and Prevention which are updated regularly. In order to test for Novel Coronavirus (COVID-19), we must call the Louisiana Department of Health to get approval for testing. Patients with a travel history to COVID-19 infected areas or who have been in contact with someone diagnosed with COVID-19, must meet the following criteria in order to be tested:
Have a fever of 100.0F or greater
Test negative for influenza
Be diagnosed with a lower respiratory infection
What to do if you think you are sick with COVID-19?
CALL AHEAD to a healthcare professional if you develop a fever and symptoms of respiratory illness, such as cough or difficulty breathing, and have been in close contact with a person known to have COVID-19 or if you live in or have recently traveled to an area with ongoing spread. Tell your healthcare professional about your recent travel or contact. Your healthcare professional will work with your state's public health department and CDC to determine if you need to be tested for COVID-19.
What About Wearing a Mask?
Wearing a surgical mask will not keep you from getting COVID-19
Masks are in high demand throughout the country
Healthcare facilities are being given an allotted amount of masks
Everyone needs to do their part to conserve masks that are not needed
What are the Best Prevention Practices?
It is important for everyone to practice these everyday precautions to help prevent the spread of germs:
Wash your hands often - for 20 seconds with soap and water, or use alcohol-based hand sanitizer
Cover your cough or sneeze with your elbow or a tissue
Do not touch your face
Clean and disinfect commonly touched objects and surfaces
Avoid people who are sick
Stay home if you are sick, except to get medical care
To help you determine when to seek medical care, here is a list of the most common signs and symptoms to look for: