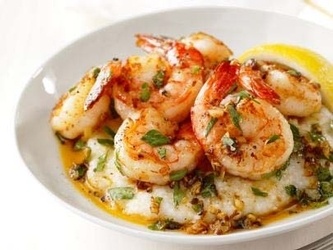 Makes: 4 Servings
Prep Time: 15 minutes
Cook Time: 15 minutes
Ingredients
3/4 cup instant grits
Kosher salt and freshly ground black pepper
1/4 cup grated parmesan cheese
3 tablespoons unsalted butter
1 1/4 pounds medium shrimp, peeled and deveined, tails intact
2 large cloves garlic, minced
Pinch of cayenne pepper (optional)
Juice of 1/2 lemon, plus wedges for serving
2 tablespoons roughly chopped fresh parsley
Directions
Bring 3 cups of water to a boil in a medium saucepan over high heat, covered. Uncover
and slowly whisk in the grits, 1 teaspoon salt and 1/2 teaspoon pepper. Reduce the
heat to medium low and cook, stirring occasionally, until thickened, about 5 minutes.
Stir in the parmesan and 1 tablespoon butter. Remove from the heat and season with
salt and pepper. Cover to keep warm.
Meanwhile, season the shrimp with salt and pepper. Melt the remaining 2 tablespoons
butter in a large skillet over medium?high heat. Add the shrimp, garlic and cayenne, if
using, and cook, tossing, until the shrimp are pink, 3 to 4 minutes. Remove from the
heat and add 2 tablespoons water, the lemon juice and parsley; stir to coat the shrimp
with the sauce and season with salt and pepper.
Divide the grits among shallow bowls and top with the shrimp and sauce. Serve with
lemon wedges.
Nutrition : Per Serving
Calories 367, Total Fat 12g, Saturated Fat 7g, Protein 34g, Total Carbohydrates 26g,
Sugar 0g, Fiber 1g, Cholesterol 309mg, Sodium 904mg