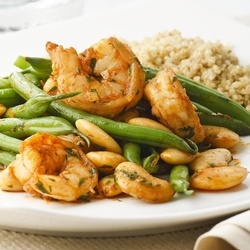 Makes: 6 servings
Per serving: 245 calories; 8 g fat (1 g sat , 6 g mono); 115 mg cholesterol; 26 g carbohydrates; 0 g added sugars; 23 g protein; 8 g fiber; 596 mg sodium; 855 mg potassium.
Nutrition Bonus: Selenium (43% daily value), Fiber (33% dv), Vitamin C (30% dv), Iron (25% dv), Potassium (24% dv), Vitamin A (20% dv).
Carbohydrate Servings: 2
Exchanges: 1 starch, 1 vegetable, 3 very lean meat, 1 fat
Ingredients:
4 cups green beans, trimmed (about 12 ounces)
3 tablespoons extra?virgin olive oil
1/4 cup minced garlic
2 teaspoons paprika
1 pound raw shrimp, (21?25 per pound; see Note), peeled and deveined
2 16?ounce cans large butter beans, or cannellini beans, rinsed
1/4 cup sherry vinegar, or red?wine vinegar
1/2 teaspoon salt
1/2 cup chopped fresh parsley, divided
Freshly ground pepper, to taste
Preparation:
Bring 1 inch of water to a boil in a large saucepan.
Put green beans in a steamer basket, place in the pan, cover and steam until tender?crisp, 4 to 6 minutes.
Meanwhile, heat oil in a large skillet over medium?high heat.
Add garlic and paprika and cook, stirring constantly, until just fragrant but not browned, about 20 seconds.
Add shrimp and cook until pink and opaque, about 2 minutes per side.
Stir in beans, vinegar and salt; cook, stirring occasionally, until heated through, about 2 minutes.
Stir in 1/4 cup parsley.
Divide the green beans among 6 plates. Top with the shrimp mixture.
Sprinkle with pepper and the remaining 1/4 cup parsley.
Serve with quinoa or brown rice.