Lane Outpatient Therapy
WE ARE HERE FOR YOU
Nothing is more important than your health.
If it's time for your annual check-up, or you just aren't feeling well and need medical attention, give us a call.
In-office and Tele-medicine appointments are available.
To request an appointment, call 225-658-4578.
For Emergencies, please call 911.
----------------------------------------------------------------------------------------------------------------------------------------------------------------------------------------------
Safety Precautions in Place for Lane Clinics
There is nothing more important than your health. Please know we are following state guidelines and taking every precaution when you come into a Lane clinic.
At all Lane clinics, we are committed to providing you safe, convenient and effective care. We encourage you to seek the healthcare services you may have been postponing.
Here a few EXTRA precautions we have in place for your safety, and the safety of those around you:
Masks – Everyone is required to wear a mask when entering the clinic at this time, including patients, staff members, and providers. Please bring your mask with you when you come.
Screening – All patients will be screened for COVID-19 symptoms by phone prior to their appointment and again upon arrival. Staff members continue to be screened before work each day, wash their hands before and after every patient interaction, and wear Personal Protective Equipment (PPE).
Disinfecting – We continue to disinfect the clinic throughout the day, especially in between patients. A deep cleaning of the entire clinic is done every evening.
Social Distancing – Patients have the choice to wait inside the waiting room or in their vehicle. Waiting rooms are arranged to maximize social distancing with designated sick and well seating sections. Only well patients are allowed in common waiting areas for lab and x-ray. Sick patients will have labs drawn in their exam room, and/or will wait in their exam room until it's time to be escorted to and from imaging for x-rays.
Visitors – Patients are allowed to bring one visitor.
Appointments – All Lane clinics are seeing patients in person. Tele-medicine appointments are also available from the comfort of your home.
CALL TO SCHEDULE YOUR IN-OFFICE OR TELE-MEDICINE APPOINTMENT TODAY.
_______________________________________________________________________________
Baton Rouge Area Outpatient Therapy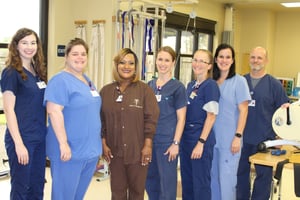 Clinical Excellence
Our professional staff consists of certified physical, occupational, and speech therapists. They are dedicated to applying innovative clinical pathways that ensure each patient receives the utmost in care on a personalized level.
---
Baton Rouge Area Physical Therapy
Our physical therapists develop comprehensive plans of care that may include:
Exercises to restore motion, strength, and a greater degree of independence
Joint and soft tissue mobilization
Neuromuscular reeducation
Orthotic/prosthetic training
Education and information specific to the injury or illness
---
Baton Rouge Area Occupational Therapy
Our occupational therapists focus on improving a patient's ability to perform activities of daily living. Treatment may include:
Strengthening specific muscle groups to help restore fine and gross motor skills
Comprehensive home exercise programs and patient education
Instruction in adaptive living techniques, joint protection, work simplification, energy conservation, and motor coordination
Customized adaptive equipment
---
Baton Rouge Area Speech Therapy
Our speech-language pathologists offer comprehensive evaluation and treatment plans that may include:
Improved functional communication skills and speech production
Improved oral feeding and swallowing skills
Improved memory and language or establishing compensatory strategies in these areas
---
Benefits of Outpatient Therapy at Lane
Progressive Clinical Programming
Our outpatient program utilizes the latest techniques and equipment, and provides specialized services for various disorders.
Amputation
Arthritis
Balance disorders
Brain injury
COPD
Movement disorders
Multiple trauma
Neurological disorders
Orthopedic conditions
Parkinson's
Post-surgical conditions
Spinal dysfunction
Sports-related injuries
Stroke
Depend on Our Expertise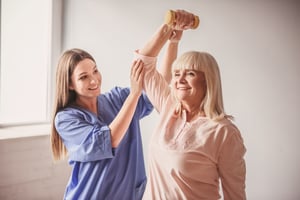 All we need is a prescription for therapy from your physician. We will verify your insurance and schedule your initial visit. Then our friendly staff will be happy to find therapy times that fit into your busy schedule.
Just call 225-658-4578 for more information or to get help with a physician referral