Lane Outpatient Therapy
Baton Rouge Area Outpatient Therapy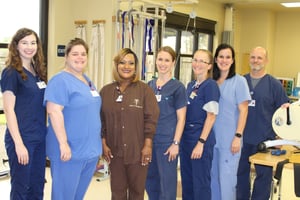 Experience Makes a Difference
Lane Outpatient Therapy is a team of established physical, occupational, and speech therapy professionals who provide a wide array of services tailored to the individual needs of our patients.
The majority of our sessions are one-on-one with an experienced licensed therapist, ensuring consistent, skilled intervention to reach goals more quickly.
We are proud to be part of the community and are committed to providing each patient with an exceptional experience that promotes healing and recovery in a safe, compassionate environment.
---
Baton Rouge Area Physical Therapy
Our physical therapists develop comprehensive plans of care that may include:
Exercises to restore motion, strength, and a greater degree of independence
Joint and soft tissue mobilization
Neuromuscular reeducation
Orthotic/prosthetic training
Education and information specific to the injury or illness
---
Baton Rouge Area Occupational Therapy
Our occupational therapists focus on improving a patient's ability to perform activities of daily living. Treatment may include:
Strengthening specific muscle groups to help restore fine and gross motor skills
Comprehensive home exercise programs and patient education
Instruction in adaptive living techniques, joint protection, work simplification, energy conservation, and motor coordination
Customized adaptive equipment
---
Baton Rouge Area Speech Therapy
Our speech-language pathologists offer comprehensive evaluation and treatment plans that may include:
Improved functional communication skills and speech production
Improved oral feeding and swallowing skills
Improved memory and language or establishing compensatory strategies in these areas
---
Benefits of Outpatient Therapy at Lane
Progressive Clinical Programming
Our outpatient program utilizes the latest techniques and equipment, and provides specialized services for various disorders.
Amputation
Arthritis
Back pain
Balance disorders
Brain injury
Cancer recovery
COPD/Pneumonia
Dry Needling
Endurance deficits
Fall Prevention
Movement disorders
Multiple traumas
Neck pain
Neurological disorders
Orthopedic conditions
Parkinson's
Post-surgical conditions
Spinal dysfunction
Sports-related injuries
Stroke
Work injuries
---
Depend on Our Expertise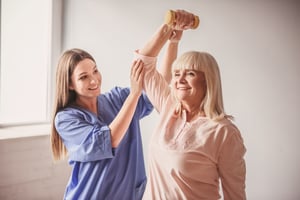 All we need is a prescription for therapy from your physician. We will verify your insurance and schedule your initial visit. Then our friendly staff will be happy to find therapy times that fit into your busy schedule.
Just call 225-658-4578 for more information or to get help with a physician referral
---
Frequently Asked Questions
Do I need a doctor's prescription for physical therapy?
Yes.
Is outpatient therapy covered by insurance?
Physical therapy, speech therapy, and occupational therapy are covered by most insurance providers. As a courtesy to our patients, we verify your benefits and bill your insurance at the time of service.
How many times will I have to see my therapist?
That varies, depending on the person and the diagnosis. Your therapist will give you a plan of treatment during your initial evaluation. We strive to partner with our patients to help you get better as quickly as possible.
Will therapy be painful?
Our goal is not to inflict pain on our patients, but sometimes changing range of motion, improving soft tissue health, and increasing muscle strength can be uncomfortable in the short term. By listening to our patients and tailoring treatments based on your needs, our goal is to improve your pain, not cause pain.
Can I do any exercises at home?
Yes, in fact it is encouraged! After meeting with your therapist, there will be a plan of care made to help you manage/decrease your symptoms and return to the things you love. During the sessions, a home program will be established so you can continue to improve in between treatment sessions. Our therapists are here to help you become more independent in your healing and are easy to reach if you have any questions about your home program.
How many times per week do I need to come to get results?
We get that question a lot, but every diagnosis and every patient has a different prescription. Each patient has an individualized plan of care depending on their specific goals. However, we find that most patients will see a significant difference in 3-6 visits, and should potentially be meeting their goals in 4-6 weeks. Some patients need to see their therapist 2-3 times a week, others only need 1 visit per week.
What happens during my therapy sessions?
During your initial evaluation, your therapist listens to your concerns and performs a thorough exam. The first session is a mix of talking, assessment, treatment, and establishing your home therapy program. Following sessions include hands-on treatment to improve symptoms as well as activities to reeducate your body. Each session is focused on you and your goals!
Do you have any special training or certifications?
All of our therapists are highly experienced and educated. Each therapist has unique specialties and training, such as orthopedics, manual therapy, TMJ, dry needling, functional communication, swallowing, resistive breathing treatment, adaptive living and motor coordination.