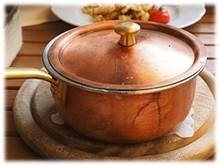 Ingredients:
Chicken or Pork
1 lb. boneless, skinless chicken breast or tenderloins (or pork loin, tenderloin or center loin), all visible fat discarded
1 cup water
Barbecue Sauce
14.5 oz. canned, no-salt-added tomato sauce
1 Tbsp. brown sugar (optional or flavor with a no calorie sweetener)
1/4 cup cider vinegar
1 Tbsp. yellow mustard
1/2 tsp. garlic powder
1/2 tsp. onion powder
1/2 tsp. chili powder
1/4 tsp. cayenne pepper
1 tsp. black pepper
1/4 tsp. cinnamon
1/2 tsp. paprika
Method:
Chicken or Pork
1.Place chicken or pork in slow cooker, Pour water and Barbeque Sauce (recipe below) over meat.
2.Cover and cook over low setting for 8-10 hours, or over high setting for 3-4 hours. Chicken may break apart easily with fork once cooked.
Barbecue Sauce
1.Whisk together all ingredients in a medium bowl.
Serves: 6
Prep: 30 min.