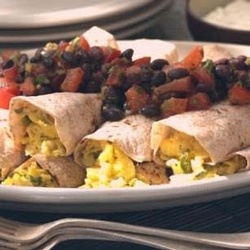 Makes: 4 servings
Active Time: 15 minutes
Total Time: 30 minutes
Ingredients
4 9-inch whole-wheat flour tortillas
4 large eggs
1/8 teaspoon salt
Freshly ground pepper, to taste
1 teaspoon extra-virgin olive oil
1 4-ounce can chopped green chiles
1/2 cup grated Cheddar, or Pepper Jack cheese
2 cups prepared salsa
1/4 cup reduced-fat sour cream
Preparation
Preheat oven to 350°F.
Wrap tortillas in foil and heat in the oven for 5 to 10 minutes.
Blend eggs, salt and pepper in a medium bowl with a fork until blended.
Heat oil in a 10-inch nonstick skillet over medium-low heat.
Add chiles and cook, stirring, for 1 minute.
Add eggs and cook, stirring slowly with a wooden spoon or heatproof rubber spatula, until soft, fluffy curds form, 1 1/2 to 2 1/2 minutes.
To serve, divide eggs evenly among the tortillas.
Sprinkle each with about 2 tablespoons cheese and roll up.
Serve with salsa and sour cream.
Two Easy Ways to Heat Tortillas
Microwave: Stack 4 tortillas between damp paper towels and microwave on high for 30 seconds, or until hot and pliable.
Oven: Preheat oven to 300°F. Stack tortillas (about 4 in a batch) and wrap tightly in foil. Place in oven for 5 to 10 minutes, or until warm.
Nutrition
Per serving: 328 calories; 15 g fat (6 g sat , 5 g mono); 232 mg cholesterol; 34 g carbohydrates;
18 g protein; 7 g fiber; 783 mg sodium; 286 mg potassium.
Nutrition Bonus: Fiber (29% daily value), Vitamin C (25% dv), Calcium (20% dv), Vitamin A (20% dv).
Carbohydrate Servings: 2
Exchanges: 1 1/2 starch, 1/2 vegetable, 1 1/2 lean protein, 2 fat