More than 5 percent of the world's population suffers from hearing loss. If you are among these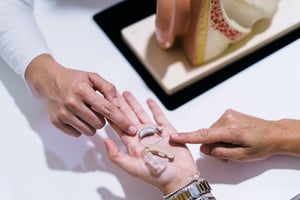 individuals, you have likely considered the use of a hearing aid. These small devices can make huge impact on your ability to hear and interact with the world around you. Still, while hearing loss may cause insecurity, the process of getting a hearing aid can also feel daunting and cause hesitation among patients. Allow us to simplify the process and put your mind at ease by addressing the many aspects of hearing aid fittings and questions you may have.
Hearing Aid Options
Hearing aids come in many different styles that vary in size, capability and placement. Patient needs and degree of hearing loss are the most important factors in determining the most appropriate hearing aid. While there are many variations of each, the three most common hearing aid types are:
In the canal
In the ear
Behind the ear
Hearing Aid Evaluation and Hearing Test
Determining which hearing aid option is best for you requires an evaluation by an audiologist. During this time, you will have the opportunity to discuss concerns, hearing aid styles, and costs in an effort to select the most appropriate option. Additionally, your audiologist will perform a hearing test if they haven't already, to determine the degree of hearing loss.
Hearing Aid Fitting
When it is time to receive your new hearing aid, you will go through a fitting process with your audiologist. During this process, the goal is to ensure that hearing aids fit properly and provide the appropriate amount of amplification. In order to best determine this, a process called Real Ear Measures (REM) may be used.
During a REM test, a thin tube connected to a microphone is placed in the ear canal, near the eardrum. This microphone is then used to measure the volume of sound in your ear both with and without your hearing aid device. This step in the process is critical to ensure that your new hearing device is adjusted properly based on your specific degree of hearing loss.
Getting a Hearing Aid in Zachary
If you are in Zachary or the Baton Rouge area and are suffering from hearing loss, it may be time to explore your hearing aid options. At Lane Audiology Clinic, Heather O'Laughlin offers diagnostic hearing evaluations and hearing aid fittings along with many other services. Simply click below to learn more or request a consultation.