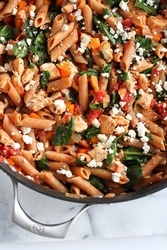 There's nothing easier on a busy night than tossing everything into one-pot. This pasta dish is not only healthy, but beyond delicious!
Serves: Serves 6
Ingredients
4 tsp olive oil, divided
2 skinless, boneless chicken breasts, cut into ¾-inch pieces
¼ tsp ground pepper
1 orange (or red or yellow) bell pepper, diced
1 medium yellow onion, chopped
4 garlic cloves, minced
¾ tsp dried oregano
1 (14.5 oz.) can petite diced tomatoes
2¼ cups fat-free chicken broth (see note)
2 tbsp balsamic vinegar
8 oz. whole wheat penne pasta
2 cups (lightly packed) spinach leaves, coarsely chopped
3 tbsp minced flat-leaf parsley
¼ cup (1 ½ oz.) crumbled feta cheese
Salt to taste
Instructions
In a large nonstick saucepan (or nonstick skillet with high sides) set over medium-high heat, heat 2 teaspoons of olive oil. Add the chicken and cook, stirring occasionally, until just cooked through, 4 to 5 minutes. Transfer to a bowl.
Reduce the heat to medium and add 1 teaspoon of olive oil to the saucepan. Add the orange pepper and cook for 1 minute. Transfer to the bowl with the chicken. Set aside.
Add the remaining 1 teaspoon of olive oil to the saucepan. Add the onion and sauté until softened, about 4 minutes. Add the garlic and oregano, and cook for 30 seconds.
Pour in the diced tomatoes, chicken broth and balsamic vinegar. Bring to a boil, then stir in the pasta, stirring to coat and submerge the pasta.
Cover and simmer until the pasta is al dente (see note).
Stir in the chicken, bell pepper, spinach and parsley, and stir to wilt the spinach. Remove from the heat and sprinkle with the feta cheese. Taste and add salt, if desired. Serve.
Notes
Note: Depending on the cooking time recommended on the pasta package, the amount of chicken broth required may vary between 1¾ cups and 2¼ cups. If desired, start with 1¾ cups and then add additional chicken broth partway through cooking, if necessary. The cooking time will be longer than what is recommended on the package, as the pasta is simmering rather than boiling in this recipe.