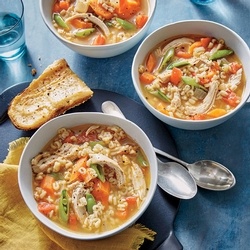 Nutrition Information:
Calories 297; Fat 5.5 g; Satfat 1 g; Monofat 3.1 g; Polyfat 0.6 g; Protein 24 g; Carbohydrate 38 g; Fiber 4 g; Cholesterol 38 mg; Iron 3 mg; Sodium 610 mg; Calcium 72 mg; Sugars 8g; Est. Added Sugars 1 g
Ingredients:
1 tablespoon olive oil
1 cup diced yellow onion
1 cup diagonally sliced carrot
1 tablespoon minced garlic
2 teaspoons unsalted tomato paste
4 cups unsalted chicken stock
1 cup water
5/8 teaspoon kosher salt
5 ounces uncooked alphabet or ditalini pasta (about 1 cup)
1 cup diagonally sliced sugar snap peas
1/4 cup chopped fresh tomato
6 ounces skinless, boneless rotisserie chicken breast, shredded (about 11/2 cups)
How to Prepare It:
Heat a large Dutch oven over medium-high heat
Add oil to pan; swirl to coat.
Add onion and carrot; saute' 4 minutes
Add garlic and tomato paste; cook 2 minutes, stirring occasionally
Add stock, 1 cup water, and salt; bring to a boil
Add pasta to pan; cook 5 minutes
Add snap peas, tomato, and chicken to pan; cook 3 minutes or until pasta is done
Fresh brightly colored vegetables add some welcome vibrancy to this comforting soup. Have fun with the noodle shape, or use any small pasta you have on hand. The alphabet shape noodles encourage pint-sized palates to enjoy their dinner. If you'd like, sprinkle each serving with freshly ground black pepper for a finishing touch.