A Guide to Lane Regional Medical Center's Billing Process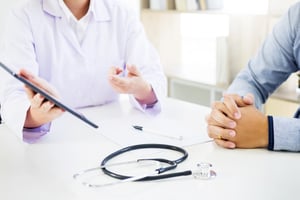 At Lane Regional Medical Center our mission is to provide exceptional healthcare services to every patient, every time. To ensure the success of this commitment, we must be financially responsible. Our approach is one that is positive and proactive to patient billing and collections with the goal of receiving payment for services rendered in the most efficient, timely, and customer-friendly manner possible.
The staff at Lane Regional understands that billing and collections for healthcare services can be confusing. Please let us assist you in understanding these billing services and to answer any questions you may have in advance.
Customer Service Telephone Numbers:
Insurance Account Information: 225-658-4346
Self Pay / No Insurance Account Information: 1-844-620-8131
Financial Estimates: 1-844-620-8131
Payment Plans for Patient Balances Due: 1-844-620-8131
---
Your Financial Responsibilities
Lane Regional Medical Center accepts responsibility for providing the highest quality most cost effective healthcare services possible. Therefore, we ask that you accept responsibility for paying for those services in a timely manner. It is required that all patients sign a "Consent for Treatment and Responsibility for Payment" form regardless of insurance coverage.
Prior to Service for Elective & Non-emergent Services - Some health plans require a patient to pre-certify certain services, or to be notified within a certain period of time after becoming hospitalized. If your service is not an emergency, we encourage you to review and understand your insurance coverage and benefit documents prior to your visit. Please discuss any insurance eligibility or payment concerns with our Financial Counselors as soon as possible.
Patients with a Health Plan - Lane Regional attempts to collect all known patient payment responsibilities prior to the delivery of services which includes deductibles, co-pays and co-insurance amounts. If we are unable to verify from your insurance company the patient payment responsibility, there will be an estimated pre-deposit requirement for surgeries and procedures.
Patients with Medicare - At the time of registration, the clerk will review your physician orders and diagnosis information. If Medicare does not cover the services ordered, you may be asked to sign a Medicare Advance Beneficiary Notice (ABN) to signify that you have been informed of your payment responsibility.
Patients with no Insurance Coverage - If you have no insurance coverage, you will be required to pay 50% of the estimated amount of your procedure or treatment. We use an estimated amount because treatment plans may change during your stay and it is difficult to know your total charges prior to the time of your service from the hospital.
---
Processing Your Bill
Shortly after your service date, you will receive a summary statement from the hospital for the services that were rendered. If you have current insurance coverage, the hospital will bill your insurance carrier at that time. As a convenience to you, we will not send you any further communication until your insurance company has either paid the bill and there is a balance due or your insurance company has not paid the claim in a timely manner. If we have not received payment in a timely manner, the hospital may ask for your assistance in getting the bill paid.
If you have a patient balance, you will receive a statement at that time indicating the total amount due. If you have questions about your hospital bill, please call our Patient Financial Services department at 225-658-4346.
If you are unable to pay the balance in full, a payment agreement will be required. Please contact our Customer Service Department at 1-844-620-8131 to arrange a payment plan.
To make an online payment, please click here.
---
Physician Billing
Professional fees charged by physicians for services provided to you will be billed by the physician separately and apart from the fees charged by the hospital. Please understand that physicians or other healthcare professionals may be called upon to provide care or services to you or on your behalf, but you may not actually see, or be examined by, all physicians or healthcare professionals participating in your care; for example, you may not see physicians providing radiology, pathology and EKG interpretation.
In many instances, there will be a separate charge for professional services rendered by physicians to you or on your behalf, and you will receive a bill for these professional services that is separate from the bill for hospital services. These independent healthcare professionals may not participate in your health plan and you may be responsible for payment of all or part of the fees for the services provided by these physicians who have provided out-of-network services, in addition to applicable amounts due for copayments, coinsurance, deductibles, and non-covered services.
We encourage you to contact your health plan to determine whether the independent healthcare professionals are participating with your health plan. In order to obtain the most accurate and up-to-date information about in-network and out-of-network independent healthcare professionals, please contact the customer service number of your health plan or visit its website. Your health plan is the primary source of information on its provider network and benefits.
To help you determine whether the independent healthcare professionals who provide services at this facility are participating with your health plan, this healthcare facility can provide you with a complete list of the names and contact information for each individual or group. If you receive a bill from a physician and have questions, please call the telephone number listed on the statement.
Physicians that may bill you separately include:
Emergency Room Physician
Hospitalist
Pathologist
Radiologist
Surgeon
Anesthesiologist
Cardiologist
Personal Physician

Note: There will be a telephone number on each bill or statement you receive to call with questions related to that particular bill.
---
Pricing Transparency
New legislation from the Centers for Medicaid and Medicare (CMS) require hospitals to make their standard charges available beginning January 1, 2019.
Note: This is not a list of out-of-pocket costs patients can expect to pay; it is a federally mandated list of charges.
Defining Hospital Charges for Consumers and Improving Transparency
To minimize confusion and provide the most relevant pricing information to consumers, it is important to explain what a "charge" is and how it differs from the amount actually paid.
What is a "charge"? - A hospital "charge" is a federally-required maximum list price for an item or service that does not reflect any negotiated discount. Federal reporting rules require hospitals to maintain a catalog of tens of thousands of procedure codes, code descriptions and list prices in a complex accounting tool, known as the hospital chargemaster. Although virtually no one pays full charges, federal regulations require hospitals to uniformly apply the full list price, or "charge", to all patients who receive a specific item or service.
How are "charges" different from actual payments? - Medicare and Medicaid reimburse hospitals using complex formulas that often pay less than the actual cost of providing care. Private health insurance plans also negotiate significant discounts.
How can consumers receive a clear, customized estimate of their out-of-pocket costs? - Call the number on your insurance card or visit your insurer's website. When planning an elective procedure, insured individuals should contact Medicare or their commercial health plan for information on plan design, provider networks, and out-of-pocket payment responsibilities such as deductibles, coinsurance and out-of-pocket maximums. Most insurance companies have secure websites that outline plan offerings, out-of-pocket expenses, deductibles, and may offer individualized estimates of patient expenses based on provider, service and/or hospital. Patients may also contact the hospital financial services department at 1-844-620-8131 to request an estimate of expenses for upcoming services.
IF YOU HAVE COMMERCIAL INSURANCE:
Contact your insurance company to understand all of the factors affecting your financial responsibility.
Numerous factors, such as type of plan, co-pay, co-insurance, deductible, out-of-pocket maximums, provider network and other limitations, will affect your financial responsibility to a hospital.
The prices reflected on this site do not include charges for the physician or other professional fees, such as pharmacy, diagnostic imaging, or lab work.
The prices reflected on this site do not include any negotiated discounts between your insurance company and the hospital.
IF YOU HAVE MEDICARE:
Medicare has many different parts, and not everyone has the same type of Medicare coverage. Medicare will pay for many of your healthcare expenses but not all of them.
Special rules apply if you have employer group health insurance coverage through your job or a spouse's job.
If you have a supplemental health insurance policy, it may cover some costs that Medicare does not cover.
The best way to be sure of what your Medicare plan covers is to call 1-800-MEDICARE, or visit the website at www.mymedicare.gov
IF YOU HAVE MEDICAID:
Contact your local Medicaid office at 1-888-544-7996, or visit the Louisiana Department of Health to determine all the factors affecting your financial responsibility.
Generally, Medicaid recipients are not responsible for any portion of the bill.
IF YOU ARE UNINSURED:
Please contact our Patient Financial Services Department at 1-844-620-8131 and ask about our payment policies.
for the federally mandated list of charges for services we provide.
for the federally mandated list of average DRG charges.
NOTE: This is not a list of out-of-pocket costs patients can expect to pay; it is a federally mandated list of charges. The charges displayed only include hospital charges and do not include charges that are billed separately by the physician or other professional fees. Furthermore, the actual amount paid by a patient will depend on that patient's insurance coverage, as benefit plans vary greatly. For financial estimates, please call 1-844-620-8131.