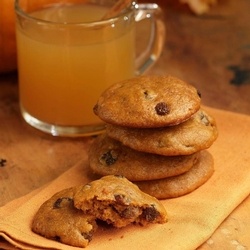 The deep flavors of molasses, cinnamon, ginger, allspice and nutmeg make these wholesome pumpkin cookies delicious without the addition of butter -- and they lend themselves beautifully to the inclusion of whole-wheat flour. They are also the perfect texture for a sandwich cookie -- fill them with a slightly sweetened cream cheese frosting.
Ingredients:
2/3 cup whole-wheat pastry flour
2/3 cup all-purpose flour
1 teaspoon baking powder
1/2 teaspoon baking soda
1/2 teaspoon salt
1 teaspoon ground cinnamon
1/2 teaspoon ground ginger
1/4 teaspoon ground allspice
1/4 teaspoon freshly grated nutmeg
2 large eggs
3/4 cup packed light brown sugar or 1/3 cup Splenda Sugar Blend for Baking (see Tips)
3/4 cup canned unseasoned pumpkin puree
1/4 cup canola oil
1/4 cup dark molasses
1 cup raisins
Directions:
Preheat oven to 350 °F.
Coat 3 baking sheets with cooking spray.
Whisk whole-wheat flour, all-purpose flour, baking powder, baking soda, salt, cinnamon, ginger, allspice and nutmeg in a large bowl.
Whisk eggs, brown sugar (or Splenda), pumpkin, oil and molasses in a second bowl until well combined.
Stir the wet ingredients and raisins into the dry ingredients until thoroughly combined.
Drop the batter by level tablespoonfuls onto the prepared baking sheets, spacing the cookies 1½ inches apart.
Bake the cookies until firm to the touch and lightly golden on top, switching the pans back to front and top to bottom halfway through, 10 to 12 minutes.
Transfer to a wire rack to cool.
Make Ahead Tip: Store cookies in an airtight container, with wax paper between the layers, for up to 2 days.