Lane Wound Care & Hyperbaric Oxygen Therapy Center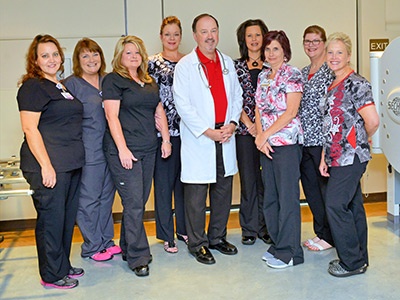 Lane's Advanced Wound Care & Hyperbaric Oxygen Therapy Center is an outpatient program that focuses on chronic and nonhealing wounds.
Our team of physicians, nurses and therapists provide advanced therapies for most wounds, such as diabetic, non-healing surgical, traumatic and infected wounds, as well as a variety of ulcers needing wound care. Helping these wounds heal quickly is essential to help avoid complications such as infection and to help patients regain the comfort and mobility that their wounds may have cost them.
In order to achieve optimal results quickly, Lane often uses a revolutionary treatment option: hyperbaric oxygen therapy.
Hyperbaric oxygen therapy is used on more serious injuries or compromised wounds, providing 100 percent pure oxygen in a pressurized chamber (the air we breathe is only 21 percent oxygen). This high-pressure dose of oxygen, known as hyperbaric oxygen, greatly increases the amount of oxygen delivered to those areas that are having trouble healing due to the lack of oxygen in the surrounding tissues.
Hyperbaric oxygen therapy provides:
Advanced wound healing
Increased oxygen delivery to injured tissue
Improved infection control
Greater blood vessel formation
Preservation of damaged tissues and veins
Elimination of toxic substances
Reduction of gas bubble obstructions
The average treatment lasts approximately two hours and benefits many conditions, including:
Diabetic wounds that are slow to heal or not healing
Damaged tissue from radiation therapy
Skin grafts that have a questionable blood supply
Certain infections of the bone or skin
Any wound that has shown no improvement in four weeks
For more information or a physician referral for the Lane Wound Center & Hyperbaric Oxygen Therapy, please call (225) 658-4110.
Request an Appointment / More Information