Lane Wound Care & Hyperbaric Oxygen Therapy Center
WE ARE HERE FOR YOU
Nothing is more important than your health.
If it's time for your annual check-up, or you just aren't feeling well and need medical attention, give us a call.
In-office and Tele-medicine appointments are available.
To request an appointment, call 225-658-4110.
For Emergencies, please call 911.
-----------------------------------------------------------------------------------------------------------------------------------------------------------------------------------------------------------
Baton Rouge Area Wound Care
Lane's Advanced Wound Care & Hyperbaric Oxygen Therapy Center is an outpatient program that focuses on chronic and non-healing wounds.
Our team of physicians, nurses and therapists provide advanced therapies for most wounds, such as diabetic, non-healing surgical, traumatic and infected wounds, as well as a variety of ulcers needing wound care. Helping these wounds heal quickly is essential to help avoid complications such as infection and to help patients regain the comfort and mobility that their wounds may have cost them.
---
Hyperbaric Oxygen Therapy in Baton Rouge
In order to achieve optimal results quickly, Lane often uses a revolutionary treatment option: hyperbaric oxygen therapy.
Hyperbaric oxygen therapy is used on more serious injuries or compromised wounds, providing 100 percent pure oxygen in a pressurized chamber (the air we breathe is only 21 percent oxygen). This high-pressure dose of oxygen, known as hyperbaric oxygen, greatly increases the amount of oxygen delivered to those areas that are having trouble healing due to the lack of oxygen in the surrounding tissues.
---
Benefits of Hyperbaric Oxygen Therapy
Hyperbaric oxygen therapy provides:
Advanced wound healing
Increased oxygen delivery to injured tissue
Improved infection control
Greater blood vessel formation
Preservation of damaged tissues and veins
Elimination of toxic substances
Reduction of gas bubble obstructions
---
Wounds Treatable with Hyperbaric Oxygen Therapy
The average treatment lasts approximately two hours and benefits many conditions, including:
Diabetic wounds that are slow to heal or not healing
Damaged tissue from radiation therapy
Skin grafts that have a questionable blood supply
Certain infections of the bone or skin
Any wound that has shown no improvement in four weeks
---
For more information or a physician referral for the Lane Wound Center & Hyperbaric Oxygen Therapy, please call (225) 658-4110.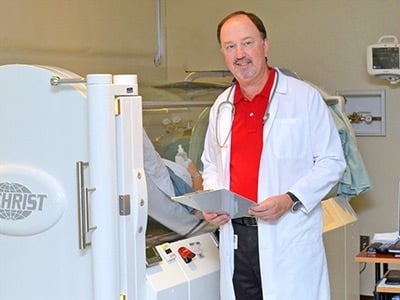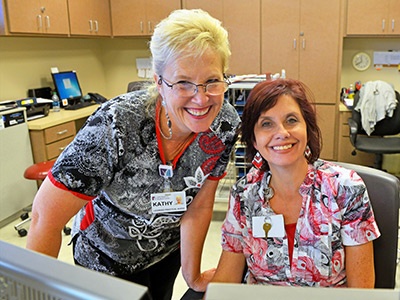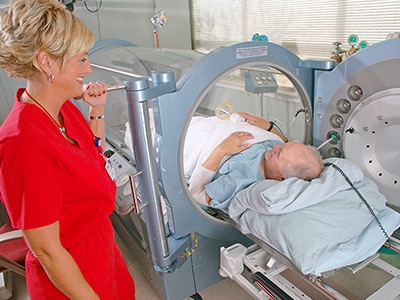 ---
Lane Wound Care Resources

---
Safety Precautions in Place for Lane Clinics
There is nothing more important than your health. Please know we are following state guidelines and taking every precaution when you come into a Lane clinic.
At all Lane clinics, we are committed to providing you safe, convenient and effective care. We encourage you to seek the healthcare services you may have been postponing.
Here a few EXTRA precautions we have in place for your safety, and the safety of those around you:
Masks – Everyone is required to wear a mask when entering the clinic at this time, including patients, staff members, and providers. Please bring your mask with you when you come.
Screening – All patients will be screened for COVID-19 symptoms by phone prior to their appointment and again upon arrival. Staff members continue to be screened before work each day, wash their hands before and after every patient interaction, and wear Personal Protective Equipment (PPE).
Disinfecting – We continue to disinfect the clinic throughout the day, especially in between patients. A deep cleaning of the entire clinic is done every evening.
Social Distancing – Patients have the choice to wait inside the waiting room or in their vehicle. Waiting rooms are arranged to maximize social distancing with designated sick and well seating sections. Only well patients are allowed in common waiting areas for lab and x-ray. Sick patients will have labs drawn in their exam room, and/or will wait in their exam room until it's time to be escorted to and from imaging for x-rays.
Visitors – Patients are allowed to bring one visitor.
Appointments – All Lane clinics are seeing patients in person. Tele-medicine appointments are also available from the comfort of your home.
CALL TO SCHEDULE YOUR IN-OFFICE OR TELE-MEDICINE APPOINTMENT TODAY.