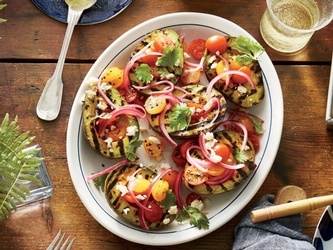 Active time: 15 minutes; Total time: 20 minutes; Yield: Serves 6
Grilled Avocado Salad
Ingredients:
3 firm, ripe avocados, peeled and halved
3 tablespoons extra-virgin olive oil, divided
3 tablespoons fresh lime juice (from 2 limes), divided
1 1/2 teaspoons kosher salt, divided
1/2 teaspoon black pepper, divided
12 ounces multicolored cherry tomatoes, halved (about 2 cups)
1/4 cup fresh cilantro leaves
1 1/2 ounces Cotija cheese, crumbled (about 1/3 cup)
1/2 cup Pickled Red Onions (see recipe below)
How to Make It:
Preheat grill to medium (350°F to 400°F).
Brush avocado halves evenly with 1 tablespoon each of the oil and lime juice. Sprinkle evenly with 1 teaspoon of the salt and 1/4 teaspoon of the pepper.
Grill, cut side down, uncovered, until edges begin to char, 5 to 7 minutes. Carefully remove from grill; set aside.
Toss together tomatoes, cilantro, and remaining 2 tablespoons each oil and lime juice, 1/2 teaspoon salt, and 1/4 teaspoon pepper in a medium bowl. Let stand 5 minutes.
Place avocado halves, cut side up, on a platter. Top evenly with tomato mixture, Cotija, and Pickled Red Onions.
Pickled Red Onions
Ingredients:
2 tablespoons coriander seeds
2 tablespoons mustard seeds
1 red onion, sliced
1/4 cup red wine vinegar
1/4 cup white balsamic vinegar
2 tablespoons sugar
3 fresh bay leaves
3 fresh thyme sprigs
1 tablespoon extra-virgin olive oil
1/4 teaspoon kosher salt
1/4 teaspoon freshly ground pepper
How to Make It:
Place a small skillet over medium-high heat until hot; add coriander and mustard seeds, and cook, stirring constantly, 2 minutes or until toasted. Set aside.
Fill a large bowl with ice water; place onion in bowl. Soak 20 minutes. Drain; pat dry. Return onion to bowl.
Bring red wine vinegar and next 4 ingredients to a boil in a small saucepan over medium-high heat. Pour over onion. Let stand 5 minutes. Drain. Stir in seeds and remaining ingredients. Store in an airtight jar in refrigerator until ready to use.
Recipe from Coastal Living