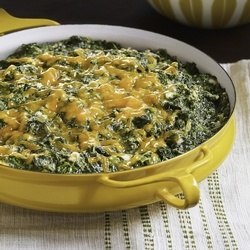 Nutrition information:
Servings: 8
Serving size: about 1 cup
Per serving: 142 calories; 6 g fat(3 g sat); 3 g fiber; 10 g carbohydrates; 14 g protein; 175 mcg folate; 17 mg cholesterol; 3 g sugars; 0 g added sugars; 12678 IU vitamin A; 6 mg vitamin C; 290 mg calcium; 2 mg iron; 391 mg sodium; 473 mg potassium
Ingredients:
3 10-ounce packages frozen spinach, thawed
1 cup low-fat milk
1/4 cup all-purpose flour
1/4 teaspoon salt
1/4 teaspoon white or black pepper
1/8 teaspoon nutmeg
1 cup extra sharp Cheddar cheese, divided
1 cup low-fat cottage cheese
3 large egg whites
Preparation:
Preheat oven to 350°F.
Coat a shallow 2-quart baking dish with cooking spray.
Press spinach in a mesh strainer to get out as much moisture as possible.
Pulse in a food processor until very finely chopped.
Combine milk, flour, salt, pepper and nutmeg in a large saucepan.
Cook over medium heat, whisking, until thickened, 2 to 4 minutes.
Remove from the heat and stir in 1/2 cup Cheddar, cottage cheese and the spinach.
Beat egg whites in a large bowl with an electric mixer, slowly increasing the speed, until they begin to foam. Continue to beat until the whites hold their shape; do not overbeat. (You'll know they are ready when you lift the beaters out and the peak doesn't flop over.)
Gently fold the whites into the spinach mixture with a rubber spatula until uniform. (It's OK if a few white streaks remain.)
Transfer to the prepared baking dish.
Bake for 35 minutes.
Top with the remaining 1/2 cup Cheddar; continue baking until the cheese is melted, about 10 minutes more. Let stand for 5 minutes.