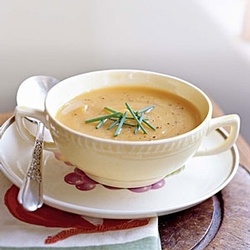 Yield: 6 servings (serving size: 2/3 cup soup and 1 teaspoon chives)
Nutritional Information: Calories 112; Calories from fat 20 %; Fat 2.5 g; Satfat 0.4 g; Monofat 1.7 g; Polyfat 0.3 g; Protein 3.3 g; Carbohydrate 22.4 g; Fiber 3.6 g; Cholesterol 0.0 mg; Iron 1.6 mg; Sodium 266 mg; Calcium 84 mg
Ingredients:
4 cups (1-inch) cubed peeled butternut squash (about 1 1/2 pounds)
1 tablespoon olive oil
1/4 teaspoon salt
4 large shallots, peeled and halved
(1/2-inch) piece peeled fresh ginger, thinly sliced
1/2 cups fat-free, less-sodium chicken broth
tablespoons (1-inch) slices fresh chives
Cracked black pepper (optional)
Preparation:
Preheat oven to 375°.
Combine first 5 ingredients in a roasting pan or jelly-roll pan; toss well.
Bake at 375° for 50 minutes or until tender, stirring occasionally. Cool 10 minutes.
Place half of squash mixture and half of broth in a blender. Remove center piece of blender lid (to allow steam to escape); secure blender lid on blender. Place a clean towel over opening in blender lid (to avoid splatters).
Blend until smooth. Pour into a large saucepan.
Repeat procedure with remaining squash mixture and broth.
Cook over medium heat 5 minutes or until thoroughly heated.
Top with chives and pepper, if desired.