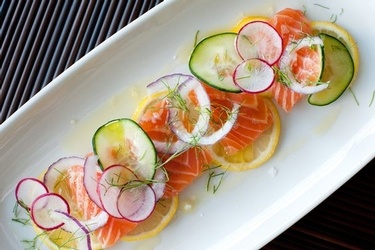 Serves 4
Nutrition Facts:
Calories 200; Total Fat 7 g; Saturated Fat 1.5 g; Trans Fat 0 g; Polyunsaturated Fat 2.5 g; Monounsaturated Fat 2.5 g; Cholesterol 50 mg; Sodium 165 mg; Potassium 805 mg; Total Carbohydrate 6 g; Dietary Fiber 2 g; Sugars 3 g; Protein 26 g;
Dietary Exchanges: 1 vegetable, 4 lean meat
Ingredients:
Cooking spray
2 small cucumbers, peeled, ends trimmed
1/2 small red onion, finely chopped
4 salmon fillets (about 4 ounces each), rinsed, patted dry
2 Tbsp. fresh lemon or lime juice
1/4 cup chopped, fresh, loosely packed dillweed
1/4 tsp. salt
1/4 tsp. pepper
Directions:
Preheat the oven to 400°F.
Lightly spray an 11 x 7 x 2-inch baking dish with cooking spray.
Cut each cucumber in half lengthwise. Scoop out and discard the seeds. Slice the cucumbers into 1/4-inch-thick crescents.
Arrange the cucumbers and onion around the edges of the baking dish.
Place the fish in the center of the dish. Sprinkle the lemon juice over the fish.
Sprinkle the remaining ingredients over the fish, cucumbers, and onion.
Bake for 15-20 minutes, or until the fish is cooked to the desired doneness and the vegetables are tender-crisp.