Lane Rehabilitation Center
Baton Rouge Area Rehabilitation Center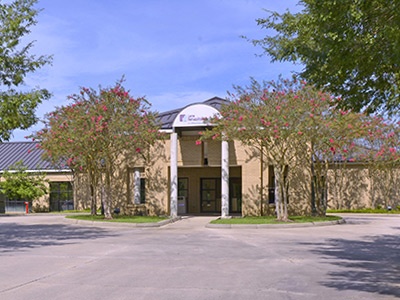 After an accident or health problem leaves you impaired, the questions and fear can be overwhelming. Whether from an auto accident, stroke, neurological disorder, joint replacement, injury or illness, the sudden need for rehabilitation can be frightening. You need someone who can provide a supportive, caring environment in which you recover, while having the knowledge and skill necessary to answer your questions and alleviate your concerns. At Lane Rehabilitation Center, that's just what you'll find.
---
What Services Does Lane Rehabilitation Center Provide?



The rehabilitation process consists of assessment, treatment, education and discharge. We focus on both the physical and emotional needs of the patient, as we guide them through therapy sessions at least five days per week for approximately three hours per day.
Patients can be referred or admitted from home, a hospital or other medical facility. Referrals can be made by physicians, social workers, nurses, discharge planners, healthcare providers, insurance providers, caregivers or by the patient themselves.
Upon referral, a preadmission screening will determine if the patient's specific condition may benefit from Lane's comprehensive program. Once accepted, the admission date and time of transfer will be arranged.
Disability is of recent onset or progression
A physical impairment is present that limits functional ability
Assistance is required in daily living activities and/or the use of adaptive equipment
Medical complications have caused a dramatic decline in physical functioning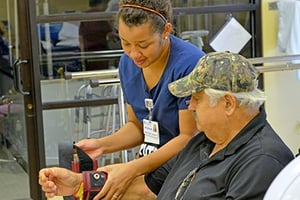 Must require 24-hour rehabilitative nursing services
Must need at least two types of therapy services
Must have the potential to improve function or achieve independence
Must have an identified discharge placement
Must be willing to participate with the team in the rehabilitation process
Upon admission, a comprehensive patient evaluation is completed, taking into consideration all aspects of medical history and lifestyle. An individualized treatment plan is then developed based on each patient's personal goals.
Treatment plans are coordinated and managed by our team of professionals who are trained and experienced in rehabilitation medicine including physicians; physical, occupational and speech therapists; registered nurses; and social workers.
Treatment may focus on ambulation, muscle strengthening and coordination, use of adaptive equipment, independent living skills, cognitive and communication skills, bowel and bladder management, and psychological adjustment.
Patients are encouraged to do as much as possible for themselves during their stay, thereby speeding up the rehabilitation process and building independence.
Because tolerance to therapy varies from person to person, the team meets regularly with each patient and their caregiver to discuss progress and modify the individual treatment plan as needed.

Patients learn many skills during their stay to help them return to a productive lifestyle, protect themselves from re-injury and make routine activities a little easier.
These skills may also include joint protection, energy conservation, pain management, fall prevention and other techniques vital to the recovery process.
Caregivers are taught how to provide assistance when needed, as well as how to give positive reinforcement and encouragement, all vital to a patient's long-term success.
Prior to discharge, our rehabilitation team will meet with the patient and/or caregiver to make sure the necessary support systems are in place to help transition to the appropriate discharge destination.