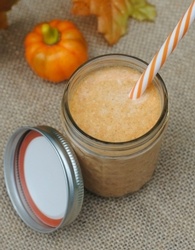 Serves: 1; Prep Time: 5 min
Nutritional Information Per Serving:
Calories Per Serving 199; Total Fat 1.5g; Saturated Fat o.3g; Trans Fat 0.0g; Polyunsaturated Fat 0.2g; Monounsaturated Fat 0.3g; Cholesterol 3.33.3mg; Sodium 106mg; Carbohydrates 38g; Fiber 6g; Sugars 26g; Protein 11g
Ingredients:
½ cup canned pumpkin (not pie filling)
1/3 cup fat-free plain yogurt
1/3/cup skim milk
2 Tbsp. rolled oats
2 tsp. honey
½ tsp. pumpkin pie spice
3-4 ice cubes
Directions:
Into a blender, add pumpkin, yogurt, milk, oats, honey, pumpkin pie spice and ice cubes.
Blend until smooth and frothy, about 1 minute.
Pour into a glass and serve.
Cooking Tip: Keeping the can of pumpkin in the fridge before using isn't necessary, but helps make a colder smoothie.
Keep it Healthy: Make sure to buy 100% pure pumpkin and not pumpkin pie filling or mix, which looks similar but can have added sugar.
Tip: Plain nonfat Greek yogurt, which has more of a tangy taste as well as more protein, can be substituted for the light plain yogurt.