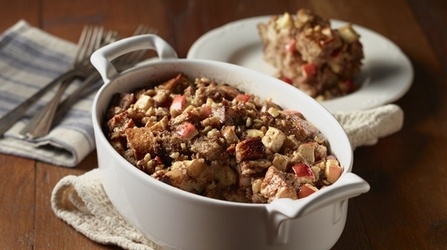 Whole grain bread, apples and cinnamon make a sweet dessert that is healthy too. Serve warm and enjoy with a glass of skim or low-fat milk!
Serves 4
Nutritional Analysis Per Serving:
Calories 131, Total Fat 1.2g, Saturated Fat 0.3g, Trans Fat 0.0g, Polyunsaturated Fat 0.2g, Monounsaturated Fat 0.3g, Cholesterol 32mg, Sodium 154mg, Carbohydrates 26g, Fiber 5g, Sugars 16g, Protein 5g
Ingredients:
Cooking spray
1 whole egg PLUS
1 egg white
1 cup skim milk
2 Tbsp. brown sugar
1 tsp. vanilla extract
1 tsp. cinnamon
1/2 tsp. cloves or allspice
6 slices light, whole-grain or multigrain bread, cubed
3 medium apples, cored, cut into 1/2-inch cubes
(Optional): 1/2 cup of any one of the following: raisins, dried cranberries, fresh or dried blueberries, chopped walnuts, pecans or almonds
Directions:
Pre-heat oven to 350.
Spray 9x9 baking dish with cooking spray.
In large bowl, whisk together egg, egg white, milk, sugar blend, vanilla, cinnamon and cloves.
Add bread and apple cubes. Add fruit or nuts if desired. Mix well.
Pour mixture in to prepared baking dish and bake in preheated oven for 40-45 minutes.
Source:
http://www.heart.org/HEARTORG/HealthyLiving/HealthyEating/Recipes/Apple-Bread-Pudding_UCM_473657_RecipeDetail.jsp