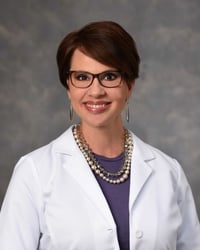 Lane Regional Medical Center is pleased to announce that Heather O'Laughlin, Au.D., has opened Lane Audiology Clinic at 6110 Main Street, Suite D, in Zachary. She is licensed by the Louisiana Board of Examiners for Speech Pathologists & Audiologists and is certified in clinical competence by the American Speech & Hearing Association.
Originally from Baton Rouge, Dr. O'Laughlin graduated from Louisiana Tech University with a Master's degree in Audiology and later earned her Doctorate at Arizona School of Health Sciences. Prior to this position she was a diagnostic audiologist at the Clinic of Ear, Nose & Throat Diseases in Baton Rouge.
Dr. O'Laughlin performs hearing evaluations for patients of all ages, as well as:
Comprehensive audiometric tests
Tympanometry testing for middle ear function
Otoacoustic Emissions testing for cochlear function
Auditory brainstem response (ABR) testing
Hearing aid services, including selection, fitting, adjustments, cleaning, batteries and repairs
Assistive Devices for TV, telephone, classroom and sound alerts
Cochlear implant programming for MED-EL audio processors
Custom ear molds, swimmers plugs and musician's monitors
Industrial hearing evaluations and reporting
Patient and parental counseling
"My passion for audiology comes from seeing the struggles of my younger brother after he was diagnosed with permanent hearing loss as a child," says Dr. O'Laughlin. "It is my desire to help individuals and families discover hearing loss as early as possible and to provide solutions for improved hearing."
Dr. O'Laughlin and husband, Troy, recently moved to Zachary with their 3 children, Brennan, 16, Ryan, 15, and Kylie, 7. They are active in First Baptist Church and enjoy singing in the choir as well as participating in Bible study classes.
Dr. O'Laughlin is now accepting new patients. For more information or to make an appointment, please call Lane Audiology Clinic at 225-658-4154.