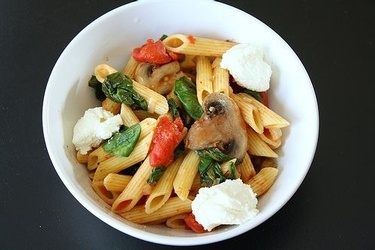 Makes: 4 servings, about 1 1/2 cups each
Active Time: 25 minutes
Total Time: 25 minutes
Ingredients
8 ounces whole-wheat rotini or fusilli
1 tablespoon extra-virgin olive oil
1 onion, chopped
3 cloves garlic, sliced
8 ounces sliced white mushrooms (about 3 1/2 cups)
1/2 teaspoon salt
1/4 teaspoon freshly ground pepper
1 14?ounce can diced tomatoes with Italian herbs
8 cups baby spinach
1/2 teaspoon crushed red pepper (optional)
3/4 cup part-skim ricotta cheese
Preparation
Bring a large pot of water to a boil.
Add pasta; cook until just tender, 8 to 10 minutes or according to package directions.
Drain and transfer to a large bowl.
Meanwhile, heat oil in a large nonstick skillet over medium heat.
Add onion and garlic and cook, stirring, until soft and beginning to brown, about 3 minutes.
Add mushrooms, salt and pepper and cook, stirring, until the mushrooms release their liquid, 4 to 6 minutes.
Add tomatoes, spinach and crushed red pepper (if using).
Increase heat to medium-high; cook, stirring once halfway through, until the spinach is wilted, about 4 minutes.
Toss the sauce with the pasta and divide among 4 bowls.
Dollop each serving with 3 tablespoons of ricotta.
Nutrition
Per serving: 364 calories; 9 g fat (3 g sat , 4 g mono); 14 mg cholesterol; 55 g carbohydrates; 0 g added sugars; 16 g protein; 7 g fiber; 588 mg sodium; 786 mg potassium.
Nutrition Bonus: Vitamin A (90% daily value), Vitamin C (50% dv), Folate (25% dv), Potassium (22% dv), Calcium (21% dv), Iron (20% dv).
Carbohydrate Servings: 3
Exchanges: 3 starch, 2 vegetables, 1 lean meat, 1 fat
*** For meat lovers, brown some crumbled turkey sausage along with the onions and garlic.