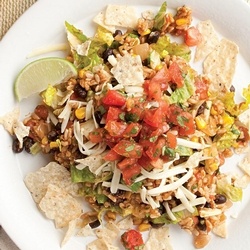 Makes: 6 servings, about 1 1/2 cups each
Nutrition:
Per serving: 395 calories; 17 g fat (5 g sat , 5 g mono); 20 mg cholesterol; 52 g carbohydrates; 0 g added sugars; 14 g protein; 9 g fiber; 459 mg sodium; 774 mg potassium.
Exchanges: 3 1/2 starch, 1 vegetable, 1 lean meat, 2 fat
Ingredients:
2 tablespoons extra-virgin olive oil
1 large onion, chopped
1 1/2 cups fresh corn kernels or frozen, thawed
4 large tomatoes
1 1/2 cups cooked long-grain brown rice
1 15?ounce can black, kidney or pinto beans, rinsed
1 tablespoon chili powder
1 1/2 teaspoons dried oregano, divided
1/4 teaspoon salt
1/2 cup chopped fresh cilantro
1/3 cup prepared salsa
2 cups shredded iceberg or romaine lettuce
1 cup shredded pepper Jack cheese
2 1/2 cups coarsely crumbled tortilla chips
Lime wedges for garnish
Preparation:
Heat oil in a large nonstick skillet over medium heat.
Add onion and corn; cook, stirring, until the onion begins to brown, about 5 minutes.
Coarsely chop 1 tomato. Add it to the pan along with rice, beans, chili powder, 1 teaspoon oregano and 1/4 teaspoon salt.
Cook, stirring frequently, until the tomato cooks down, about 5 minutes. Let cool slightly.
Coarsely chop the remaining 3 tomatoes. Combine with cilantro, salsa and the remaining 1/2 teaspoon oregano in a medium bowl.
Toss lettuce in a large bowl with the bean mixture, half the fresh salsa and 2/3 cup cheese.
Serve sprinkled with tortilla chips and the remaining cheese, passing lime wedges and the remaining fresh salsa at the table.