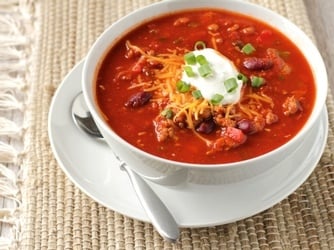 Servings Per Recipe: 4-6
Serving Size: 1 (465 g)
Nutrition Info :
AMOUNT PER SERVING: Calories 594.3; Calories from Fat 161; Total Fat 18 g; Saturated Fat 3.6 g; Cholesterol 78.3 mg; Sodium 1247.7 mg; Total Carbohydrate 78.1 g; Dietary Fiber 18.1 g; Sugars 20.1 g; Protein 39.5 g
Ingredients:
2 tablespoons extra virgin olive oil
3 garlic cloves, chopped
1⁄2 small onion, chopped
1 lb. ground turkey
1 small red bell pepper, chopped
1 small green bell pepper, chopped
1 (15 ounce) can dark red kidney beans, drained and rinsed
2 (28 ounce) cans crushed tomatoes
2 tablespoons chili powder
1 teaspoon ground pepper
1 teaspoon salt
1 teaspoon cumin
1 teaspoon ground cayenne pepper
1 teaspoon garlic powder
1⁄4 cup packed light brown sugar
Directions:
Add olive oil to bottom of a large cooking pot and turn heat on medium-low.
Add garlic and cook until it starts to brown, stirring frequently (about 2 minutes).
Add onions and cook on medium-low until golden and translucent (about 5 minutes).
Add ground turkey and cook, stirring frequently, until cooked through.
Combine seasonings in a small bowl, then pour over cooked turkey meat, and stir.
Pour in 2 cans of crushed tomatoes (be careful, it will splash slightly).
Stir in light brown sugar, kidney beans, and chopped peppers.
Simmer on medium-low heat for 30 minutes with cover on, slightly vented to allow steam to escape.
Serve with your choice of sides.