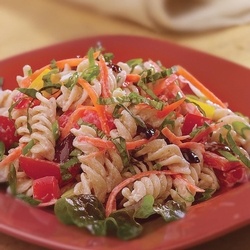 This lightly dressed pasta salad gets lots of flavor from kalamata olives and basil. A colorful mix of diced bell pepper, shredded carrot and tomatoes adds vitamins and minerals. Serve on a crisp bed of greens. Toss in canned chunk light tuna or cooked chicken to add protein and make it more substantial.
Ingredients:
2 cups whole-wheat rotini, (6 ounces)
1/3 cup reduced-fat mayonnaise
1/3 cup low-fat plain yogurt
2 tablespoons extra-virgin olive oil
1 tablespoon red-wine vinegar, or lemon juice
1 clove garlic, minced
1/8 teaspoon salt
1 cup cherry or grape tomatoes, halved
Freshly ground pepper, to taste
1 cup diced yellow or red bell pepper, (1 small)
1 cup grated carrots, (2-4 carrots)
1/2 cup chopped pitted kalamata olives
1/2 cup chopped scallions, (4 scallions)
1/3 cup slivered fresh basil
Directions:
Bring a large pot of lightly salted water to a boil
Cook pasta, stirring occasionally, until just tender, 8 to 10 minutes, or according to package directions
Drain and refresh under cold running water
Whisk mayonnaise, yogurt, oil, vinegar (or lemon juice), garlic, salt and pepper in a large bowl until smooth
Add the pasta and toss to coat
Add tomatoes, bell pepper, carrots, scallions, olives and basil
Toss to coat well
* Make Ahead Tip: Cover and refrigerate for up to 1 day.
Nutrition information:
Serves 6 - Serving size: 1 cup
Per serving: 217 calories; 9 g fat(1 g sat); 4 g fiber; 30 g carbohydrates; 6 g protein; 32 mcg folate; 4 mg cholesterol; 5 g sugars; 1 g added sugars; 4338 IU vitamin A; 39 mg vitamin C; 70 mg calcium; 2 mg iron; 267 mg sodium; 272 mg potassium
Carbohydrate Servings: 2
Exchanges: 1 starch, 1 vegetable, 2 fat (mono)