Lane Infusion Center
Baton Rouge Area Infusion Center
If you are looking for an alternative to the traditional hospital setting for receiving intravenous infusion therapy prescribed by your physician, the Lane Infusion Center is your answer.
Our goal is to make you comfortable while we provide you a caring, customized treatment in a professional, relaxed environment. Each infusion station has its own flat-screen television and guest chairs so family or friends can remain with you to make passing the time more enjoyable. Reading materials, blankets and snacks are available for your comfort, as well as wireless Internet for personal or business purposes.
---
Regeneron Treatment for COVID-19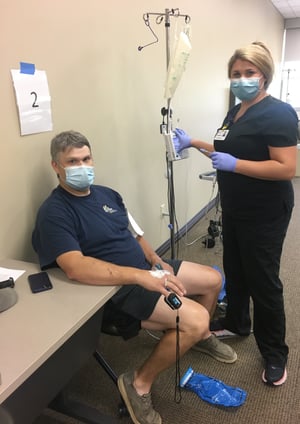 To help reduce hospitalization rates, Lane Regional Medical Center has expanded its Infusion Center to administer monoclonal antibodies to COVID-19 patients who meet treatment criteria.
Located on the 3rd floor of the Lane Medical Plaza and Outpatient Diagnostic Center, at 6550 Main Street in Zachary, the Regeneron Infusion Center is open from 7 a.m. – 7 p.m., seven days a week, and can accommodate administer up to 90 infusions per day. Treatments take between 30 to 50 minutes and require observation of up to an hour afterwards.
Staffing is comprised of Lane team members and additional nursing and medical staff provided by the Louisiana Department of Health.
In 2020, the Food and Drug Administration issued an emergency use authorization allowing monoclonal antibodies as a treatment option for COVID-19. The FDA authorized several different monoclonal antibodies, including Regeneron which is currently being administered at Lane Infusion Center.
A physician referral is required to receive the Regeneron monoclonal antibody treatment at Lane Infusion Center. To be eligible, patients must test positive for COVID-19, have symptoms for 10 days or less, and meet one of the following criteria:
65 years old or older
Have a BMI of more than 25 kg/m2
Currently pregnant
Have a medical condition, including:

Chronic kidney disease
Cardiovascular disease (including congenital heart disease or hypertension)
Diabetes
Down syndrome
Dementia
Liver disease
Chronic lung disease
Sickle cell disease
Immunosuppressive disease or receiving immunosuppressive treatment

Current, or former, smoker
History of stroke or cerebrovascular disease
Current, or history of, substance abuse
Neurodevelopmental disorders or other conditions that confer medical complexity
Have a medical-related technological dependence (including tracheostomy or gastrostomy)
"The Regeneron infusion treatment is time-sensitive," says Jason Gwyn, director of Lane Infusion Center. "To get the best results, patients 18 and older should get a physician referral to receive the treatment as soon as possible after testing positive for COVID-19."
Monoclonal antibodies like Regeneron have proven to be an effective treatment for COVID-19 because once administered, they look for and attach themselves to the spike proteins on the coronavirus that cause COVID-19. Once attached to the spike proteins, these monoclonal antibodies can block the virus' ability to enter healthy cells, thereby slowing the spread of infection.
For more information, please call Lane Infusion Center at 658-4025.
---
Types of Intravenous Infusions
Lane Infusion Center provides intravenous infusions for antimicrobial therapy and therapeutic injections, including, but not limited to:
Hydration and electrolyte management
Blood product administration
Iron deficiency management
Reclast® infusions
Regeneron for COVID-19 patients
Immunoglobulin (IVIG) therapy
Subcutaneous management therapies, such as Neupogen®
---
Lane Infusion Center Services
Our infusion staff receives ongoing in-service, ensuring that team members are skilled in the latest techniques and pharmaceuticals. Your personal RN infusion specialist:
Carries out the physician's orders
Administers infusions and injections
Monitors patients' response to treatment
Monitors lab results
Provides individualized infusion education
Keeps physicians informed of patients' progress
---
How to Begin Treatment at Lane Infusion Center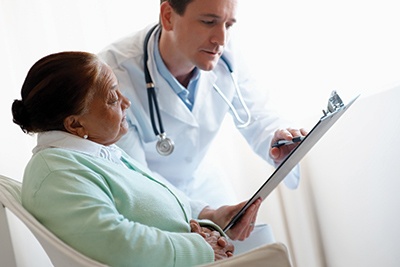 Have your physician make one simple call to our office to verify insurance coverage, coordinate benefits, schedule your initial visit and any follow-up infusions, and take care of all coding and billing for treatments provided.
Our friendly staff will be happy to help you find treatment times that accommodate your busy schedule. Appointment duration varies by treatment type.
For your convenience, we are located on the third floor of the Lane Medical Plaza & Outpatient Diagnostic Center, 6550 Main Street, in Zachary.
For more information or physician referrals, please call (225) 658-4522.