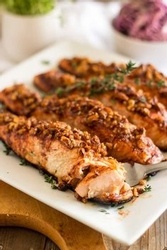 Serves: 4; 3 ounces fish per serving
Nutritional Analysis: Per serving
Calories 216; Total Fat 7.5 g; Saturated Fat 1.0 g; Trans Fat 0.0 g; Polyunsaturated Fat 2.5 g; Monounsaturated Fat 3.0 g; Cholesterol 60 mg; Sodium 244 mg; Carbohydrates 10 g; Fiber 2 g; Sugar 1 g; Protein 26 g.
Dietary Exchanges: 1/2 starch, 3 lean meat
Ingredients:
1/3 cup low-fat buttermilk
4 salmon fillets (about 4 ounces each), rinsed and patted dry
Coating:
1/2 cup uncooked quick-cooking oatmeal
1/4 cup sliced almonds
1 teaspoon dried oregano, crumbled
1/2 teaspoon garlic powder
1/2 teaspoon paprika
1/4 teaspoon salt
1/4 teaspoon pepper
Cooking Spray
Cooking Instructions:
Pour the buttermilk into a pie plate. Add the fish, turning to coat. Refrigerate, covered, for 10 minutes to 1 hour.
Meanwhile, in a medium shallow dish, stir together the coating ingredients. Set aside.
When the fish has finished marinating, preheat the oven to 400°F. Lightly spray a baking sheet with cooking spray.
Set the pie plate, shallow dish, and baking sheet in a row, assembly-line fashion. Remove 1 fillet from the buttermilk marinade, letting the excess drip off. Transfer to the oat mixture, turning to coat. Place on the baking sheet. Repeat with the remaining fillets, discarding any remaining buttermilk. Lightly spray the tops of the coated fillets with cooking spray.
Bake for 10 to 12 minutes, or until the fish is the desired doneness.
Cook's Tip: For variety, substitute tilapia or catfish fillets for the salmon.
This recipe is brought to you by the American Heart Association's Patient Education program. Look for other delicious recipes in American Heart Association cookbooks, and at www.heart.org/recipes.