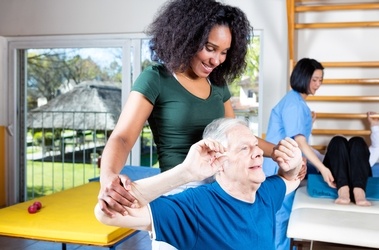 In honor of National Occupational Therapy Month this April, the Lane Regional Medical Center staff wants to extend our sincerest appreciation to the therapists, assistants, and students who work daily to promote health and self-sufficiency in people of every age and ability.
Beyond injury recovery, occupational therapists in Baton Rouge empower their patients while helping them regain the ability to perform daily tasks. With compassion and persistence, occupational therapists, particularly those at Lane, help in each of the following areas:
Occupational Therapists Empower Children and Adolescents
Occupational therapists work with children who struggle with a developmental disorder or who have been placed on the autism spectrum to develop or relearn such skills as:
Fine motor coordination
Visual perception
Feeding
Sensory integration
Self-care skills
Play
Social participation
Occupational Therapists Promote Health and Self-Sufficiency in Adults
With a caring and dedicated manner, occupational therapists help adults regain their independence in the wake of a traumatic injury or disability.
Additionally, occupational therapists also assist adults recovering from:
Hand injuries
Postsurgical rehabilitation
Sports injuries
Neurological impairment (following a stroke or head injury)
Upper body injuries
Occupational Therapists Advocate for Their Patients
Occupational therapists aren't just motivators and trainers. They are allies who passionately advocate for the needs of their patients as they participate in occupational therapy, as well as provide invaluable resources to help navigate some less-than-ideal life situations.
At Lane Regional Medical Center, we believe in providing our patients with exemplary service and attention, and our incredible staff of occupational therapists are no exception in this goal. If injury, disability, or a major health event has left you in need of rehabilitation therapy, we want to help.
4601 McHugh Road
Zachary, LA 70791
(225) 658-6800