Lane Outpatient Therapy, located at 4801 McHugh Road, Suite B, celebrated one year of providing care for patients requiring physical therapy, occupational therapy and speech therapy on an outpatient basis.
Our professional therapists utilize the latest techniques and equipment to provide personalized care for a variety of diagnoses, including:
Amputation
Arthritis
Balance disorders
Brain injury
Cancer
Cardiac
COPD
Movement disorders
Multiple traumas
Neurological disorders
Orthopedic conditions
Parkinson's
Post-surgical conditions
Spinal dysfunction
Sports-related injuries
Stroke
Work injuries
A prescription for therapy from a physician is all that is needed to schedule therapy. For more information or physician referral assistance, please call 225-658-4578.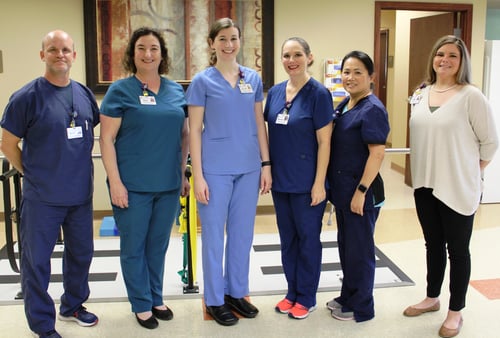 Lane Outpatient Therapists, pictured L-R: Scott Baudouin, PTA, Kim Anderson, PT, Jennifer Lhymn, OT, Renee Cupstid, SLP, Tole Phan-Nguyen, OT, and Kylie Mitchell, Program Coordinator.