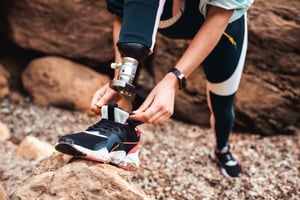 Physical therapy on an outpatient basis can be a critical, healthy, and helpful resource for prosthetic training. Adjusting to these new implementations to the body is not a quick or easy process. It requires rigorous training with expert therapists so that patients can move optimally, perform routine tasks, and maintain ideal levels of comfort and safety. Let's take a closer look at how PT can help you transition into your new prosthesis.
What is a Prosthetic?
A prosthetic is an artificial body part that replaces a part of the anatomy that has been lost to disease, trauma, or conditions present at birth. There are four types of prostheses that can be customized to meet the needs of the patient. A transhumeral prosthesis is used to replace the arm above the elbow. A transradial prosthesis is used to replace an arm missing below the elbow. A transfemoral prosthesis replace a leg that is missing above the knee. A transtibial prosthesis replaces a leg that is missing below the knee.
How Does Outpatient Physical Therapy Help with Prosthetics?
Physical therapy is a crucial component for patient rehabilitation after a limb amputation. The goal of post-amputation physical therapy is to improve a patient's functional abilities, with or without a prosthesis, and to ensure their long-term well-being. With outpatient prosthetic training, patients receive care of the residual limb, mobility and balance training, self-care and activities of daily living (ADL) training, as well as strength training, allowing to transition as safely and smoothly as possible.
Outpatient PT programs offer the same types of therapy and similarly skilled therapists as inpatient facilities. They deliver measurable results in terms of strength and range of motion and provide patients with a greater sense of independence. Furthermore, they allow patients to live in the comfort of their own homes and to continue their normal daily activities throughout treatment. The expert staff at Lane Regional Medical Center in Zachary is here to provide outpatient physical therapy for your prosthetic training.