Lane Outpatient Therapy, located at 4801 McHugh Road, Suite B, (behind Lane Surgery Group) opened Wednesday, May 1st, for patients requiring physical therapy, occupational therapy and speech therapy on an outpatient basis.
Providing clinical excellence, our professional therapists utilize the latest techniques and equipment to provide personalized care for a variety of diagnoses, including:
Amputation
Arthritis
Balance disorders
Brain injury
Cancer
Cardiac
COPD
Movement disorders
Multiple traumas
Neurological disorders
Orthopedic conditions
Parkinson's
Post-surgical conditions
Spinal dysfunction
Sports-related injuries
Stroke
Work injuries
A prescription for therapy from your physician is all that is needed to schedule therapy times that fit into your busy schedule. For more information or physician referral assistance, please call 225-658-4578.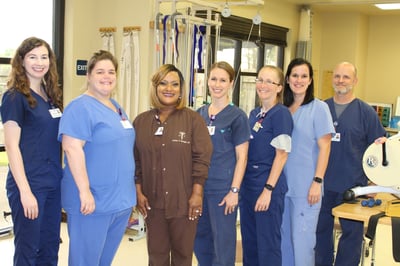 Lane Outpatient Therapists: Jennifer McNair, OT; Jessica Barnette, OTA;
LaConya Basnight, OT; Julie Johnston, PT; Cherie Naquin, ST;
Jessica Davis, PT, and Scott Baudouin, PTA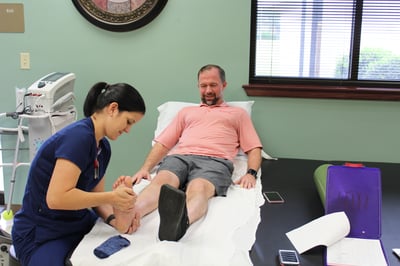 St. Francisville resident Cecil Graves, III is the 1st patient to receive
treatment at Lane Outpatient Therapy in Zachary.
Physical Therapist Jessica Davis works to help him recover from a broken leg.