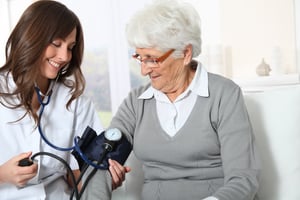 Recovery from surgery can be a lengthy process depending on the procedure and a patient's general health. In some cases, continuing care well after surgery may be needed in order to ensure full recuperation. Unfortunately, remaining in the hospital throughout the entire recovery process is not always an option. Lengthy stays can become quite expensive, and most prefer to convalesce in the comforts of their own home. At the same time, having a loved one or family member to provide care at home can be taxing. Some patients have no family nearby and others face challenges of conflicting schedules and financial restraints. For these reasons, many people choose to receive home health care following surgery, allowing them to recover in the comforts of their own home with the aid and assistance of trained professionals.
How Do You Receive Home Health Care Following a Surgery?
The most important step, whenever possible, is to plan ahead. Try to determine the length of time you will likely need for recovery and what services you should consider obtaining. Discuss these needs with your physician and ask if they recommend home health services. You should also discuss home health care with your health insurance provider to determine if the services are covered in your insurance plan and what the cost may be to you.
What Can Home Health Professionals Do to Help You Recover?
Home health provides many different services based on the individual needs of each patient. You can receive the help of nurses and aides, physical and speech therapists, social workers, dieticians, and other types of specialists based on your limitations and needs throughout the duration of your recovery. These professionals can administer a wide variety of services, including general post-operative care, pain management, administering medications, care for wounds and incisions, and much more.
Likewise, it is important that patients understand what home health professionals cannot do. Home health care should not be confused with personal care. Personal care services are those that can be provided by someone who is not a skilled medical professional such as bathing, dressing and grooming, housekeeping, completing errands and preparing meals.
Who Can Receive Post-Operative Home Health Care?
Post-operative home health services are limited to those patients who are confined to their home and need intermittent care following a procedure. A doctor must order these services based on their determination of a patient's need for skilled medical care, anticipated recovery, and individual circumstance. Those undergoing invasive procedures such as open-heart surgery, brain surgery, or orthopedic procedures are likely candidates. Additionally, patients who have preexisting conditions like diabetes or autoimmune disorders, are also often in need of special care following medical procedures.
If you have questions about home health care for yourself or a loved one, the Lane Home Health team has answers. We have serviced the Zachary area with highly trained home health providers for decades and offer compassionate care that still allows patients to keep their independence and dignity intact. Contact us today to learn more about our services for post-operative home health care.