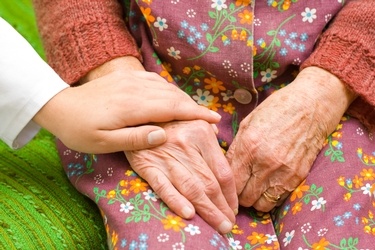 The holiday season brings a lot of joy and togetherness. For some, this is one of the few times each year that they are able to see their immediate family members. School, work, or other obligations can put miles between adult children and their aging parents. The holidays brings the perfect opportunity to come together and celebrate, but such long stretches of time between seeing elderly parents often leaves their children unprepared for the changes they encounter. There may be a sudden and marked transformation in a mother or father's physical or mental condition, prompting concern. Should they really still be living on their own? Maybe it's time to consider additional help.
Such concerns often prompt increased interest in home health services this time of year, along with alternative options such as assisted living or nursing home facilities. Determining if home health care is the best option for your parent will depend on a number of factors and is something that should be thoroughly discussed with their primary care physician. If the situations below apply, home health is a likely avenue:
Patient is confined to their home
Patient has a medical condition which requires one or more of the following:

Skilled nursing care
Physical Therapy
Speech Therapy

Services are needed on an intermittent basis
Patient desires services that home health provides
In addition to considering these factors, perhaps also look into your parent's health insurance policies, including Medicare and Medicaid, to determine exactly which services may be covered. Contact the insurance agency to review potential cost and any aspects of coverage that you may be uncertain about. Any potential home health agencies being considered for service should also be thoroughly researched. Consider factors such as how long that agency has served the area, requirements set forth for their home health nurses or aides, what kind of training their staff is provided, and of course, word-of-mouth reputation and existing patient testimonials. Above all, ensure that both you and your loved one feel confident and comfortable with the service provided.
The inability to care for an elderly parent weighs heavily on many, and oftentimes, life makes providing the necessary care yourself impossible. Home health care such as that provided by Lane Home Health is often the best option to ensure optimal care of your loved one while also affording them the opportunity to continue living independently in their own home. If you require home health services in Zachary, Baton Rouge, or the surrounding areas, contact our office with any questions that you may have or to get help with a physician referral. Even if it doesn't come directly from you, there is still loving, competent, and compassionate care available.
(225) 658-4150