Therapy Services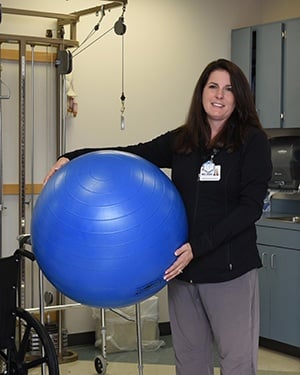 At Lane, we offer physical, speech, occupational and respiratory therapy services, all from licensed therapists committed to helping patients make the most of their recovery. With the region's most skilled and compassionate caregivers by your side and state-of-the-art equipment at your disposal, you can feel confident in your decision to trust Lane Regional Medical Center as your guide on the path to recuperation.
Physical Therapy
Featuring state-of-the-art equipment and experienced physical therapists, the goal of Lane Physical Therapy is to improve functional mobility and independence through the use of manual skills, therapeutic exercise and various modalities.
In this modern, high-functioning environment, you'll also find caring therapists whose personal goals include to help you be your best. Therapy can require commitments of hours at a time for weeks or even months. It is important to choose not only the facility that is best equipped and most qualified, but the one that makes you feel most at home as well.
We specialize in recuperation treatments for both musculoskeletal and neurological conditions, such as:
Joint replacements
Sports related injuries
Fractures
Amputations
Balance problems
Post-op conditions
Arthritis
Multiple sclerosis
Parkinson's disease
Traumatic brain injuries
Spinal cord injuries
Strokes
Work related injuries
Back-to-work functional capacity evaluations (FCEs)
Cardiac conditioning
Occupational Therapy
When an illness, injury, or disability leaves your loved one unable to perform necessary, everyday tasks, you likely need the help of an occupational therapist. This type of therapy focuses on providing patients with the skills they need to actively participate in an array of settings including social, school, work, and even home.
When working to regain the ability to perform these day-to-day tasks, patients will need an ally - a therapist who is compassionate, patient and highly trained. Fortunately, finding both a therapist and facility that embodies these qualities is simple for those who choose Lane.
---
We assist with recovery for:
Upper body
Hand injuries
Sports injuries
Postsurgical rehabilitation
Neurologic impairment
Fine motor coordination
Visual perception
Sensory integration
Feeding
Self-care skills
Social participation
And more
---
We also provide:
Casting
Custom splinting
Kinesiotaping
Ultrasound
Neuromuscular stimulation
Training and adaptive technology recommendations
---
Speech Therapy
Speech-language pathologists evaluate and treat adults who suffer from communication, neurologic, cognitive or swallowing disorders. Speech disorders may arise when a person has difficulty correctly producing speech sounds, while language disorders occur when an individual has trouble understanding others or verbally expressing their own thoughts and ideas.
Our licensed speech-language pathologists provide individual treatment plans and work closely with other professionals to meet each person's specific needs. We believe that a comprehensive approach, including a compassionate and knowledgeable team of caregivers, will provide patients with the best-possible results.
---
Areas of service include:
Articulation
Language
Stroke
Brain injury
Voice
Sensory integration
Fluency
Auditory processing
Social and pragmatic skills
Feeding and swallowing, including VitalStim® therapy treatment for swallowing disorders
Respiratory Therapy
Respiratory therapy is often required to help treat problems affecting the cardiopulmonary system. These may include asthma, pneumonia, emphysema, cardiovascular disorders or damage resulting from traumatic events. Patients requiring respiratory therapy range from infants to the elderly, and each individual's needs will determine their course of treatment.
All patients receiving respiratory therapy from Lane will be seen by a certified respiratory therapist. With advanced training and skill, you can be confident in the level of care and capability of each practitioner you see at Lane.
Area of services include:
Administration of medical gases
Delivery of respiratory medications
Mechanical ventilator management
Artificial airway management
Arterial blood sampling
Asthma therapy
Noninvasive ventilation (CPAP/BiPAP)