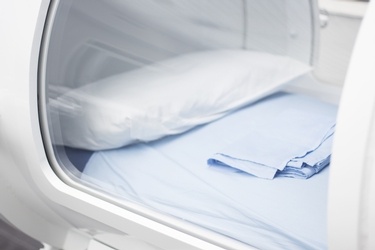 Hyperbaric oxygen therapy (HBOT) has taken wound healing to new, unsurpassed levels. Due to a number of different causes, many patients suffer from slow or non-healing wounds. In such cases, typical treatments, including ointments, medications, and bandages, may not be enough. This is when HBOT proves to be especially useful.
What is Hyperbaric Oxygen Therapy?
HBOT is a treatment option which involves the delivery of 100% pure oxygen in a controlled chamber. Typically, oxygen is delivered throughout the body by only our red blood cells. With HBOT, oxygen reaches all of the body's fluids, allowing it to be circulated to anywhere in the body, including damaged tissue where normal blood circulation may be lessened or blocked. This increase in oxygen throughout the body promotes the ability of white blood cells to eliminate bacteria. The process is completely painless and non-invasive.
Which Type of Wounds can HBOT Treat?
Diabetic Wounds – Patients with diabetes must be especially vigilant about any new wounds, particularly those affecting the lower extremities. In many cases, these wounds are slow to heal and present other complications to which diabetic patients are especially susceptible.
Radiation Wounds – Radiation commonly results in injury to tissue, as the therapy cannot distinguish cancer cells from normal cells. As these cells are impacted and nutrient blood vessels destroyed, slow and non-healing wounds in the irradiated area may occur.
Surgical Scars and Skin Grafts – In some instances, the blood supply is compromised and not able to deliver a sufficient supply of oxygen in order to achieve healing. HBOT may be used to provide adequate oxygen until new blood vessels are able to grow.
This list, while encompassing most of the wounds treatable with HBOT, is certainly not complete. There are a wide range of wounds that result from other causes which can also benefit from hyperbaric oxygen therapy. Any form of wound of infection affecting the bone or skin which has shown no signs of improvement in four or more weeks is a likely candidate for HBOT.
If you or someone in your care has a slow healing wound, particularly if they suffer from a condition such as diabetes, time is a precious commodity. It is important to have a physician monitor these wounds closely and remain proactive in treatment in order to prevent the wound from worsening or the infection from spreading.
In Zachary, Lane Wound Care and Hyperbaric Oxygen Therapy Center provides HBOT for patients whose wounds require additional care in order to heal. To learn more about our services and how you may obtain a physician referral, please click here.
Lane Wound Care & Hyperbaric Oxygen Therapy Center
4917 West Park Dr.
Zachary, LA 70791
(225) 658-4110