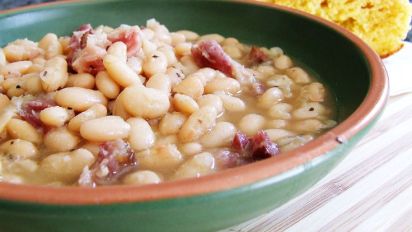 This recipe is perfect for those blustery days when you don't really have time to cook, but want a hearty meal for the family. It's a very basic, nutrient-packed meal for all to enjoy.
Ingredients (8 servings)
1 pound dried great Northern beans, soaked overnight
1/2 pound cooked ham, chopped
1/2 cup brown sugar
1 Tbsp onion powder
1 Tbsp dried parsley
1/2 tsp garlic salt
1/2 tsp black pepper
1/4 tsp cayenne pepper
water to cover
Directions:
Combine the beans, ham, brown sugar, onion powder, parsley, garlic salt, black pepper, and cayenne pepper in a slow cooker.
Pour enough water into the slow cooker to cover the mixture by about 2 inches.
Set slow cooker to Low; simmer 12 hours, stirring occasionally.
Nutrition Facts:
Per Serving: 318 calories; 5.9 g fat; 49.8 g carbohydrates; 17.8 g protein; 16 mg cholesterol; 492 mg sodium