Try this quick, Simple Cooking with Heart recipe for using holiday leftovers anytime you're craving Thanksgiving flavors. It'll be a nice change after a heavy meal.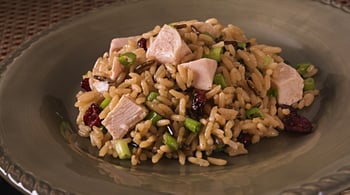 Ingredients:
2 Tablespoons rice vinegar
2 Tablespoons lime juice
1 Tablespoons olive oil
1 Tablespoons honey
1 teaspoon ground ginger
3 1/2 cups cooked wild or brown rice
1 1/2 cups chopped, boneless, skinless, cooked turkey breast
1/3 cup dried cranberries
1 bunch chopped green onions (1/2 cup)
Directions:
In a small bowl, whisk together the vinegar, lime juice, oil, honey and ginger; set aside.
In a large bowl, combine the rice, turkey, cranberries and green onion. Toss with ginger dressing. Refrigerate until serving.
Nutrition Facts: Calories 203, Total Fat 2.9 g, Cholesterol 29 mg, Sodium 25 mg, Total Carbohydrate 30 g, Protein 15 g
(6 servings)
Keep it Healthy: Make this delightful salad year round using Rotisserie chicken or leftover chicken breast.
Cooking Tip: You can also toss leftover peas or your veggies of choice into the salad.