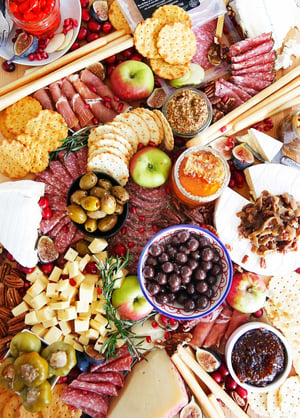 If you are entertaining for the big championship game, a charcuterie board can be a festive spread to make for your guests!
A charcuterie board is a quick, delicious and beautiful appetizer idea to feed a crowd. Charcuterie (shahr-cute-uh-ree) is a French word devoted to prepared meat products, such as bacon, ham, sausage, pâtés and cured meats. It is often served with various cheeses, crackers & bread, and other fun additions like jams, candied nuts, and more! Fill a big board (or platter) with all of your favorite meats, cheeses, and assorted raw vegetables.
Follow these guidelines for making the most epic charcuterie board, with something for everyone.
Start with the platter! Grab one or two platters or other unique serving idea You may be surprised to find that you may already have things to use at home like wooden boards, wood cutting boards, slate or chalk board, or even a marble slab!
Next move on to the cheese: You'll need approximately 3 ounces per person that you plan to serve. Pick your variety of cheeses (3 or more, depending on how many people you are hosting) & add labels and separate knives for each cheese. Try to get a variety of different types of cheese such as cow, goat or sheep cheese, as well as factoring in the different types such as soft, hard, aged, etc.
Then add in your meats: Cured meats, pâtés and sausages go well. Try to pick a variety, and ones that are relatively easy to eat on-the-go. Roll up any large ones so they are easy to pick up.
Fill in with Crackers & Breads: a nice assortment that works for anyone and everyone! Do a variety of grilled breads or crackers, making sure to get some that are gluten-free.
Add some nuts: Candied or regular nuts are a great accompaniment (or just to snack on)! Grab bowls to place around your board to place the nuts in, or scatter around!
Something sweet: Some fresh or dried fruit is always wonderful, along with jams (a must!). Grab some small bowls to place around your board to place your sweet additions in.
After you've selected everything you'd like to place on the board, go ahead and make it festive! Place a few bowls throughout the spread and add olives, chocolate candies, marinated cherry peppers, etc. Garnish the board with festive touches such as rosemary, pomegranate seeds, pears, and cranberries.
Make sure to fill in as much blank space as possible with those extra items, because the fuller it looks the more beautiful it is.
Keep some back-up cheese, meat and crackers to fill in as the night goes on.
Some suggested ingredients:
Condiments: Bacon Jam (Recipe Below), Fig Jam, Grainy Mustard. Honeycomb
Cheese: Manchego Cheese, Pepper Jack Cheese, Cheddar (Hard Cheese), Brie, Humboldt Fog, Forager d'Affinois (Soft Cheese)
Crackers: Bread Sticks, Gluten-Free Crackers, Other Crackers
Meat: Salami, Prosciutto, Salami Trio
Other: Olives, Rosemary Sprigs, Mini Marinated Peppers, Marinated Artichokes
Sweet: Apples, Pomegranate Seeds, Fresh Cranberries, Candied Pecans
Bacon Jam Recipe
Ingredients:
1 package Bacon
1 red onion
1 tablespoon bacon fat
1 tablespoon butter
1/2 teaspoon salt
1/4 cup water
5 teaspoon balsamic vinegar
1 teaspoon thyme leaves, picked
5 teaspoon pepper
Directions:
In a large skillet over medium heat cook finely diced bacon until crispy.
Drain bacon, leaving 1 tablespoon of fat in the pan. Add butter and 1/2 teaspoon salt.
Slice onion thin and add to pan and cook on low heat for 40 minutes. Add bacon back into the pan.
Deglaze pan with ¼ cup water: Deglaze the pan by adding in the water and scraping up the browned bits in the bottom of the skillet for about 30 seconds.
Add balsamic vinegar, thyme leaves, and pepper and remove pan from heat.
Serve warm on top of brie or in a dish on your board.
Store in the refrigerator for up to 4 days, and reheat before serving.
Yields about 1 cup of jam.