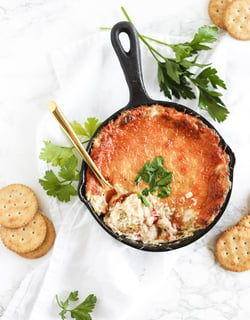 A hot, cheesy, red pepper crab dip that's a perfect snack or appetizer for guests during football games, parties, or tailgating!
INGREDIENTS
6 oz. low-fat cream cheese, softened
1 cup nonfat plain Greek yogurt
1/2 cup lump crab meat
2 cloves garlic, minced
2 green onions, chopped
1/2 red bell pepper, chopped
1 small jalapeno, seeds removed and diced
1/2 tsp. Old Bay seasoning
1/2 tsp. freshly cracked black pepper
Pinch sea salt
1/2 cup freshly grated parmesan cheese, divided
INSTRUCTIONS
Preheat oven to 400° F.
In a large bowl, stir together cream cheese and yogurt until well combined.
Stir in remaining ingredients, reserving 1/4 cup of the parmesan cheese.
Spoon mixture into a 8″ square or round baking dish. Smooth with the back of a spoon and sprinkle with reserved 1/4 cup of cheese.
Bake for 30 minutes or until bubbly and the top is slightly golden.
Serve hot with whole grain crackers, tortilla chips, or cut veggies.
Prep Time: 10 minutes
Cook Time: 30 minutes
Total Time: 40 minutes
Yield: 8-10 servings