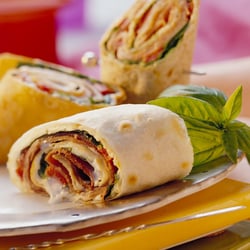 From: Diabetic Living Magazine
You'll be the MVP after bringing these flavor-packed tortilla wraps to the next tailgate.
Ingredients:
Three 7 or 8-inch flour tortillas
½ 8-ounce tub light cream cheese with chive and onion or roasted garlic
18 to 24 fresh basil leaves
½ (7 ounce) jar roasted red sweet peppers, well drained and cut into ¼-inch-wide strips
4 ounces thinly sliced cooked roast beef, ham, and/or turkey
1 tablespoon low-fat mayonnaise dressing or light salad dressing
Prep time: 10 m Ready In: 20 m 6 servings
Preparation:
Spread each tortilla with one-third of the cream cheese.
Cover cream cheese with a layer of basil leaves, leaving a 1-inch border.
Arrange roasted red peppers on basil leaves.
Top with sliced meat.
Divide mayonnaise among tortillas, spreading over meat.
Roll up each tortilla tightly into a spiral.
Cut each tortilla roll in half crosswise.
To make ahead: Wrap in plastic wrap; chill for up to 4 hours. Tote in an insulated cooler with ice packs.
Nutrition information: Serving size = 1 serving
Per serving: 135 calories; 6 g fat(3 g sat); 1 g fiber; 10 g carbohydrates; 8 g protein; 24 mg cholesterol; 2 g sugars; 186 mg sodium
Carbohydrate Servings: ½
Exchanges: 1 lean protein, ½ fat, ½ starch