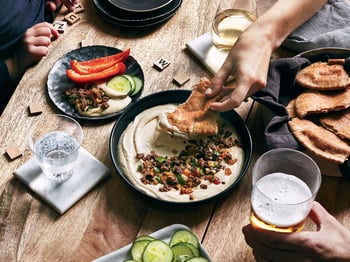 Typically, this style of super-smooth hummus starts with dried chickpeas; we discovered a shortcut with canned chickpeas where a little baking soda softens or dissolves the peas' skins. Be sure to use a blender; a food processor will not get the hummus this smooth.
Ingredients:
1 (15-oz.) can unsalted chickpeas
1 1/2 teaspoons baking soda
1/3 cup tahini (sesame seed paste)
5 tablespoons fresh lemon juice (about 2 lemons), divided
1/4 cup to 1/2 cup water
3/4 teaspoon kosher salt, divided
5 garlic cloves, minced and divided
1 tablespoon olive oil
2/3 cup finely chopped yellow onion
8 ounces 93% lean ground beef
1/2 teaspoon ground cumin
1/2 teaspoon ground coriander
1/4 teaspoon crushed red pepper
1/3 cup golden raisins
1/4 cup chopped fresh flat-leaf parsley
How to Make It:
Pour chickpeas and liquid from can into a small saucepan; stir in baking soda. Bring to a simmer over medium; cook, stirring occasionally, 3 to 5 minutes or until heated through. Drain and rinse in saucepan with cold water until chickpeas are room temperature; discard any skins that float to the top. Drain well.
Place chickpeas, tahini, 1/4 cup lemon juice, 1/4 cup water, 1/2 teaspoon salt, and 1 minced garlic clove in a blender; process until completely smooth and creamy, about 2 minutes, stopping to scrape sides as needed. Add up to 1/4 cup more water, 1 tablespoon at a time, as needed. Let stand 5 minutes.
Heat a large skillet over medium. Add oil; swirl to coat. Add onion and remaining 4 minced garlic cloves; cook 2 minutes, stirring often. Add beef, cumin, coriander, crushed red pepper, and remaining 1/4 teaspoon salt; cook, stirring occasionally to crumble, until beef is browned, about 5 minutes. Stir in raisins; cook 1 minute. Remove from heat; stir in parsley and remaining 1 tablespoon lemon juice.
Spread hummus in a thin layer on a large plate or platter; top evenly with the beef mixture.
Serve with soft whole-wheat pita and raw vegetables for dipping.