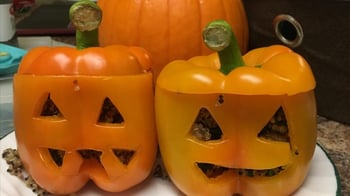 Who's ready to make some adorably cute Halloween eats? These stuffed peppers aren't necessarily hiding peppers but it's a fun way to get those veggies into those picky eaters diets.
Ingredients :
6 bell peppers, any color
1 pound lean ground beef
1 egg
4 slices whole wheat bread, cubed
1 small onion, chopped
1 small tomato, diced
2 cloves garlic, minced
1/2 cup chili sauce
1/4 cup prepared yellow mustard
3 tablespoons Worcestershire sauce
1/4 teaspoons salt
1/4 teaspoons pepper
Directions:
Preheat oven to 350 degrees.
Grease an 8x8 inch baking dish.
Lightly mix together the ground beef, egg, bread cubes, onion, tomato, garlic, chili sauce, mustard, Worcestershire sauce, salt, and pepper in a bowl.
Wash the peppers, and cut jack-o'-lantern faces into the peppers with a sharp paring knife or an extra small vegetable carving knife, making triangle eyes and noses, and pointy-teeth smiles.
Slice off the tops of the peppers, and scoop out the seeds and cores.
Stuff the peppers lightly with the beef stuffing, and place them into the prepared baking dish so they lean against each other.
Bake in the preheated oven until the peppers are tender and the stuffing is cooked through and juicy, about 1 hour.
Nutrition Facts:
Per Serving: 266 calories; 11.3 g fat; 23.3 g carbohydrates; 18.6 g protein; 78 mg cholesterol; 752 mg sodium.
(6 servings)