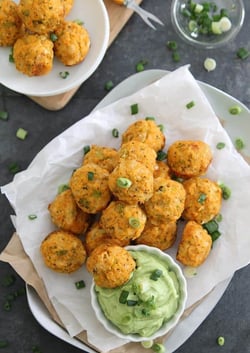 If there could be a perfect football food, these buffalo chicken cheddar bites would be it.
Ingredients:
1 1/2 cups shredded cooked chicken
1/2 cup cooked white rice ("sushi" rice is best)
1/2 cup cooked, finely chopped broccoli florets
3/4 cup grated sharp cheddar cheese
1/3 cup buffalo sauce
1 egg
2 tablespoons plain Greek yogurt
2 tablespoons almond flour/meal
1/4 cup panko breadcrumbs
salt & pepper, to taste
For the Dipping Sauce:
1 ripe avocado
juice of 1/2 a lime
2 tablespoons plain Greek yogurt
salt & pepper
Instructions:
Preheat oven to 350 degrees and grease a mini-muffin tin with baking spray.
Combine all the ingredients in a large bowl and mix together with a spatula until incorporated.
Scoop out about 1 1/2 - 2 tablespoons and roll into a ball. Place in mini-muffin tin.
Bake for 15-18 minutes until set and starting to brown on top.
Remove from the oven, let cool for a few minutes before removing from the tray, using a knife or fork to help pop them out as some of the cheese may have stuck to the tin.
Serve warm with the dipping sauce and garnish with green onions.
For the Dipping Sauce:
Combine all ingredients in a food processor and process until smooth.
PREP TIME: 5 minutes; COOK TIME: 18 minutes; TOTAL TIME: 23 minutes; YIELD: 2 servings