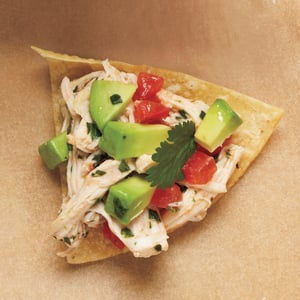 RECIPE BY COOKING LIGHT
Fresh, tasty, and delicious is how this 5-star, avocado chicken salad recipe is commonly described. This particular recipe uses vinaigrette instead of mayonnaise but doesn't lose its creamy texture, thanks to avocado. Salsa and fresh cilantro give this easy chicken salad its south-of-the-border flavors. You can layer it over a bed of greens, or serve it with tortilla chips for scooping and an added crunch.
Ingredients:
2 tablespoons olive oil
2 tablespoons fresh lime juice
3/8 teaspoon kosher salt
1/8 teaspoon freshly ground black pepper
2 cups shredded skinless, boneless rotisserie chicken breast
1/4 cup chopped fresh cilantro
3/4 cup refrigerated fresh salsa
1 ripe avocado, peeled and chopped
3 ounces tortilla chips
How to Make It:
Combine first 4 ingredients in a medium bowl, stirring with a whisk.
Add chicken and cilantro; toss to combine.
Gently fold in salsa and avocado.
Serve with chips.
Nutritional Information: Calories 345; Fat 21.1g; Satfat 3.1g; Monofat 12.1g; Poly fat 4.5g; Protein 19.2g; Carbohydrate 20.4g; Fiber 4.5g; Cholesterol 50mg; Iron 1.1mg; Sodium 579mg;
Calcium 52mg
Hands-on Time : 16 Mins; Total Time: 16 Mins
Yield: Serves 4 (serving size: 1 cup salad and about 1/2 cup chips)