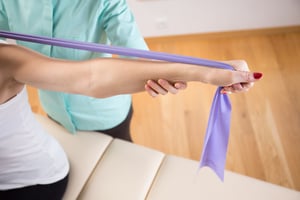 Physical, occupational and speech therapists each have specific skill sets that are vital to the recovery process of many patients following injury, surgery, or medical diagnosis. Such services can help patients regain their strength, communication, sense of independence and more during some of their most difficult times. While therapy is typically one piece of a larger overall treatment plan, it is a critical one that can make a significant impact on future quality of life.
Inpatient vs Outpatient Therapy
Therapy services may be received in either an outpatient or inpatient setting. While the services provided in these settings may be similar, it is the severity of a patient's condition that will determine which is most appropriate. In most cases, outpatient therapy is the ideal choice, given that patients have the strength, function and mobility to independently manage their care and recovery.
Whereas major medical events such as major stroke, heart attack, or catastrophic injury may require an inpatient stay, outpatient therapy is commonly used for rehabilitation in many other situations, including:
Surgery
Ligament tears and sprains
Fractures
Back and neck pain
Sports injuries
Work-related injuries
Arthritis
Speech and language disorders
Outpatient Therapy Services
There are three main forms of rehabilitative therapy offered in outpatient settings. Which a patient receives depends on their specific condition and area of need. They include:
Physical Therapy (PT) – PT uses techniques such as targeted exercises and stretching to help patients regain strength, range-of-motion and mobility. They may also use modalities such as tissue mobilization and kinesio taping.
Occupational Therapy (OT) – The focus of OT is to help patients improve their ability to perform normal daily tasks. This may include helping restore fine and gross motor skills through exercise or helping adjust to adaptive equipment or living techniques.
Speech Therapy (ST) – Performed by speech-language pathologists, ST helps patients improve speech, communication, memory and even feeding and swallowing.
Outpatient Therapy Near Baton Rouge
In the Baton Rouge area, Lane Regional Medical Center offers both inpatient and outpatient therapy programs, utilizing the most effective therapy techniques performed by some of the area's most skilled therapists. To determine if either of these programs may be right for you, contact our facility to learn more. Then, speak with your physician about a prescription for therapy services that can help you make the most of your recovery process.