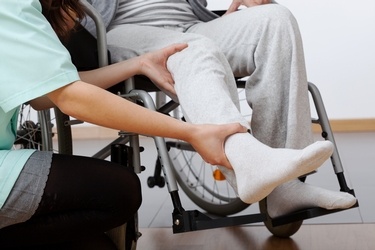 When it comes to catastrophic health events, stroke is near the top of the list. Sure, some are minor, so much so that they may be completely undetected by the patient. However, 2/3 of stroke survivors will recover from their stroke with some form of lingering disability. The type and severity of these disabilities depends on the size and location of the stroke within the brain, and treatment hinges on this fact as well. It is often a long and arduous process, but with proper rehabilitation, many patients can maintain or achieve their independence once again.
Lane Rehabilitation Center
In order to re-learn lost skills and processes, the brain must be trained through detailed therapy sessions which are unique to the individual patient. At Lane, three major areas of stroke rehabilitation are provided in an effort to help patients reach full recovery. These include physical, occupational, and speech therapy. Some patients may require all three, while others may only need one or two. The exact program will be coordinated by your therapy team and physician. Here is how each therapy may help:
Physical Therapy – Physical therapists will aid in the development and strengthening of movement and balance. They also provide targeted exercises for use both in and out of therapy to help commonly used muscles regain their strength. These include those used for walking, standing, and everyday activities. Lane's experienced therapists and state-of-the-art equipment make improving functional mobility for stroke victims possible.
Occupational Therapy – Whereas physical therapy helps strengthen muscles, occupational therapy focuses more on the process and strategy. For those who have suffered a stroke, managing typical activities such as eating, dressing, writing, or bathing can prove troublesome. We help patients learn the skills they will need to move independently throughout their lives at home, work, and social settings.
Speech Therapy – Speech therapy helps recovering victims of stroke in two very important ways. First, this therapy can help patients re-learn language skills needed for communication in speech, writing, and reading. However, perhaps even more importantly, speech therapy can help with problems affecting the ability to swallow, a common concern among those who have had a stroke.
As we reach the end of Stroke Awareness Month, know that there are exceptional rehabilitation services available right here, within the Greater Baton Rouge region. If your loved one has suffered a stroke, ask for a referral to Lane Rehabilitation Center to get life back on track.
Lane Rehabilitation Center
4601 McHugh Road
Zachary, LA 70791
(225) 658-6836