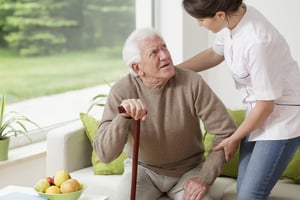 Strokes are serious health events that are widely misunderstood until they are experienced first-hand. Despite there being approximately 795,000 Americans affected by strokes each year, the potential symptoms of a stroke, who may be affected, and the necessary rehabilitation processes are far from common knowledge. This is particularly true of the southeastern United States, where Louisiana, Arkansas, Mississippi and Alabama make up the nation's "stroke belt," with a mortality rate 10 percent higher than the national average.
Understanding Stroke Complications
Complications from stroke depend on the location and amount of brain tissue impacted. Among the most commonly seen side effects are:
Paralysis on one side of the body or face
Visual impairments
Speech and language difficulties
Memory loss
Rehabilitation Process Following a Stroke
Following a stroke, rehabilitation will be one of the most important components of the recovery process. In many cases, patients must relearn skills they once possessed or learn new methods to cope with limits on their capabilities. Throughout rehabilitation, therapists will work with stroke victims to help them regain some of what has been lost in terms of strength, communication, and cognition. Much of this may be accomplished through home health, utilizing the following forms of therapy:
Physical Therapy
Stroke victims frequently suffer loss of muscle function on the affected side of their body. Through the use of manual skills, therapeutic exercises, and various modalities, physical therapists aim to help patients regain strength, balance, and coordination. Such treatment not only helps patients work towards independence, it also aids in the reduction of falls, a common occurrence and concern for stroke patients.
Occupational Therapy
Whereas physical therapy focuses on overall muscle strength and coordination, occupational therapy works toward real life applications and helping patients develop or relearn skills that will help them function daily at home, work, and in social settings. Therapists may help stroke survivors learn to manage aspects of their personal care such as bathing or to perform common tasks such as cooking, cleaning, and driving. In some cases, they may also help overcome issues of incontinence.
Speech Therapy
It is not uncommon for speech to be impacted following a stroke on the left side of the brain. In a condition known as aphasia, brain damage from the stroke often leaves patients struggling to speak or understand language. Speech-language pathologists help patients work through these communication barriers with methods such as writing and reading exercises or repetition of sounds and words.
Suffering a stroke can be life-altering, but with the appropriate forms of therapy, many patients can regain much of what was lost. With the added benefit of home health, much of this therapy can be performed in the comfort of a patient's own home. To learn if home health may be an option for your stroke recovery or that of a loved one, contact your physician and request a referral to Lane Home Health.