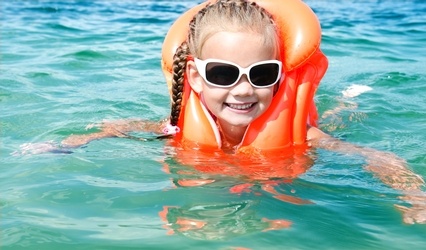 Is there any better memory than summer vacations or long days spent wading in the pool? Ice cold drinks, popsicles, fireworks, and beach trips are hallmarks of a time when life feels a bit more carefree. Unfortunately, it also marks a time when injuries are on the rise. Hospitals frequently refer to these next couple of months as "trauma season." It's no surprise that as the weather lends itself to more frequent outdoor activities that accidents also tend to spike, but the reality is that many of these are avoidable. As you are partaking in common summer festivities this season, use the following tips to keep your celebration a happy one.
Water Safety – Whether at the pool, the beach, or boating on the lake this summer, some simple precautions are necessary to ensure safety. For small children, make sure that they are always closely supervised and wear the appropriate floatation devices based on their skill level. Keep security enclosures around any pools or hot tubs to prevent unsupervised entry. When visiting the beach, take note of all warning signs and flags. Do not attempt to swim in restricted areas. And when on a boat, make sure that all passengers, regardless of age, use life jackets.
Fireworks Safety – It may be sparklers and bottle rockets in the backyard or massive displays in a community celebration, but either way, there's a good chance that you'll encounter some fireworks this 4th of July. Whatever the scenario, make sure to keep a safe distance between fireworks and spectators. Never point or aim fireworks toward a person, animal, structure, or flammable material. Read and follow all printed instructions, and use eye protection when lighting fireworks. Always store them in a cool, dry place away from children or pets when not in use.
Sun Safety – Exposure to damaging UV rays is the single most influential factor in the development of any type of skin cancer, including deadly melanoma. While sunburns have been tied to increased risk of developing melanoma, cumulative UV exposure can also result in cancer. The bottom line is that any change in skin color is a sign of damage, red or not. To protect yourself and loved ones this summer while still enjoying the great outdoors, use a generous amount of sunscreen. Select an option that is waterproof and has an SPF of at least 30, and reapply every two hours. Avoid being in direct sunlight during the hottest midday hours, and use UV protective clothing, eyewear, and wide brimmed hats.
Staying safe during the summer months isn't difficult. It just requires a little extra precaution and awareness. Of course, despite our best efforts, accidents will still sometimes happen. If you find yourself in such a situation this summer, take advantage of local resources like the Lane Regional Medical Center emergency room or our urgent care facility, FastLane, and get back to enjoying your summer months as quickly as possible.
Lane Emergency Room
6300 Main Street
Zachary, LA 70791
(225) 658-4335
FastLane After Hours Urgent Care
19900 Old Scenic Highway, Suite H
Zachary, LA 70791
(225) 570 2618