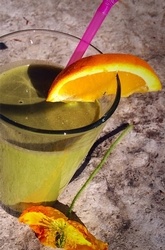 This green smoothie is seriously so delicious and is packed with ½ cup of brain boosting spinach per glass! Serve this delicious green smoothie in a green glass, give it a fun name, super powers, a straw, and a tiny umbrella to add some excitement to getting your kids to drink this nutritious green drink. The best way to incorporate smoothie drinking into your diet is to prep for the week. Chop your fruit and portion it out into containers or mason jars for a dump and blend routine that takes no time at all. Remember, the best way to encourage your kids to drink green smoothies and incorporate healthy foods into their diet is to be a role model!
Click on each highlighted ingredient below to see additional health benefits for each ingredient. Enjoy!
Super Green Smoothie
Makes 2 large smoothies or 4 small smoothies
1 cup of raw

spinach

(can also substitute with kale)
½ cup of fresh chopped or frozen

pineapple
½ cup of fresh chopped or frozen

mango

(can also substitute with Strawberries)
1

banana
1

orange

wedge with the peel
¼ cup of

sunflower seeds

(can substitute with almonds, pecans, cashews or walnuts)
½ cup of almond milk (can substitute with any nut milk, soy milk or regular milk)
1 cup of water
Blend all of the ingredients in a high powered blender and serve! Green smoothies are a great addition to a healthy breakfast. Drinking a green smoothie every morning paired with a heart healthy bowl of oatmeal can give your kids the brain boosting power and mental clarity that they need for a long day at school. Once they are accustom to drinking smoothies you can introduce a second healthy smoothie for an after school snack. In addition to being packed with fruits and vegetables, drinking smoothies on a regular basis can help kids and adults acquire a taste for fresh fruits and vegetables. Pretty soon you and your kids won't be able to go a day without your super drink!